Girl Scout Cookies Vape Delta 8 THC - Disposable - Chill - 1600mg
Product Info
If you're looking for an all-natural, hemp-derived buzz that's completely legal, then you want to try Delta-8 THC. And now, with Chill Plus Delta-8 THC Disposable Vaping Pens in Girl Scout Cookie, you can experience the upbeat, uplifting pleasure of this exciting new cannabinoid in a sweet cookie flavor with a new powerful punch. Delta-8 Disposable Vaping Pens from Chill Plus offers you an enjoyable, completely legal cannabis-like high delivered right to your front door. And with our all-natural blend of wholly organic, hemp-derived Delta-8 THC Chill Plus Delta-8 Disposable Vaping Pens, give you a 1600mg buzz you won't soon forget.
Our Delta-8 Vape Disposable Vaping Pens pack a powerful punch thanks to 1600mg of Delta-8 THC. It's now the most loved hemp-based cannabinoid by users like you in over a decade, and, much like its cousin Delta-9 THC, it offers you a bold and buzzy psychotropic high. But with Chill Plus, we've balanced out the buzz of Delta-8 THC with the fruity flavor of Girl Scout Cookie and the bountiful benefits that accompany every puff of hemp. With Chill Plus Disposable Vape Pens, every time you take a puff, you're taken to a whole new level.
How is this possible? Hemp-derived Delta-8 is 100% legal and safe for consumption, inducing a mild psychotropic high that's the ideal way to chill out alone or with friends. And with Girl Scout Cookie or GSC, an indica-dominant strain that crosses OG Kush with Durban Poison, you'll feel blissfully happy — you might even tear into a box of thin mints while buzzed. But you'll want to hurry because, with Delta-8 THC, you never know how long the feds will let the buzz last. So grab some while you still can.
Chill Plus Delta-8 THC Disposable Vaping Pens in Girl Scout Cookie contain 1600mg of Delta-8 THC for your vaping pleasure. As with all of our products, it's lab-tested and approved for your safety — guaranteed to be a pure, unadulterated product with no synthetics. Our vape pens contain no Vitamin E Acetate whatsoever, and all of our lab results are available online for inspection. So take a puff and pass the Delta-8 while supplies last!
Strength Per puff
3.33mg/puff
Delta 8 Per puff
3.33mg/puff
Hemp Extract and Natural Terpenes.
Active Ingredients
Delta 8 Products are all-natural, hemp-derived cannabinoids made popular because of their bold, relaxing, and buzzy high. These products are available in many forms, including gummies, vapes, and concentrates. Most people enjoy delta 8 products for their ability to enhance your mind.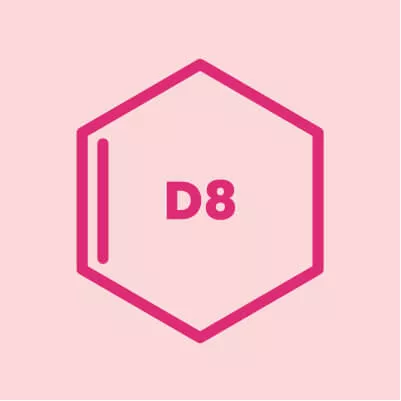 Frequently Asked Questions
Do delta 8 dabs get you high?
Yes! Due to the product's high concentration of delta 8, taking delta 8 dabs is one of the most potent delta 8 experiences available today.
Are delta 8 dabs safe?
As long they are made by a responsible, reputable manufacturer like Diamond CBD, delta 8 dabs are 100% safe to consume. That said, they are very strong, so beware of dosages when first ingesting this product, even if you've dabbled in other delta 8 products before.
Are delta 8 dabs strong?
Yes. Delta 8 wax is one of the strongest and most potent delta 8 THC products on the market today.
Is Delta 8 legal?
The sale and distribution of delta 8 products may currently be impermissible in certain states and subject to change in any state. Therefore, it is highly recommended that any purchaser contact and consult legal counsel licensed in that particular jurisdiction for a legal opinion.
How much THC is in Delta 8?
Because delta-8 thc is derived from all-natural, non-GMO hemp grown here in the USA, it contains no more than 0.3% THC, as allowed by federal law. However, delta-8 content will vary by product.