Fruity Blend Gummies - Delta-8 THC - Fresh Extreme - 3000MG
Product Info
Take your pleasure to the extreme with world-class, unique, completely legal cannabinoids thanks to Fresh brand Delta 8 fruity blend gummies. They present a one-of-a-kind, mind-blowing experience. Fresh Extreme Gummies with Delta 8 THC in our sweet and juicy Fruity Blend is 3000MG of mouthwatering flavor with a buzz. To create a powerful buzz, we combine delta 8 with the juiciest flavors, such as fruit punch, mango, and apple. With our isolation and extraction process, these gummies will take you to another world.
It's completely legal. So grab some while you can. The buzz from Delta 8 Fruity blends is potent and euphoric, almost like the high from THC. Whether you want to relax with friends or enjoy yourself, you can use Fresh Fruity Blended Gummies for both. Each gummy contains 75mg of legal hemp-derived delta 8, producing a smooth, even high. Getting yours before they sell out is the only problem.
You're new to blends. If so, you're in for a treat. We guarantee you'll love a delicious blend of the world's best-tasting fruits! They offer a unique hemp-based experience unlike anything on the market, perfect for those who prefer a more substantial buzz. Plus, everything is third-party tested and Farm-Bill compliant.
Strength Per gummy
75mg/gummy
Delta 8 Per gummy
75mg/gummy
Sugar, Tapioca Syrup, Corn Syrup, Water, Pectin, Citric Acid Natural Flavors, Fruit And Vegetable Extract (Color), and Hemp-derived Delta-8 THC extract.
Active Ingredients
Delta 8 Products are all-natural, hemp-derived cannabinoids made popular because of their bold, relaxing, and buzzy high. These products are available in many forms, including gummies, vapes, and concentrates. Most people enjoy delta 8 products for their ability to enhance your mind.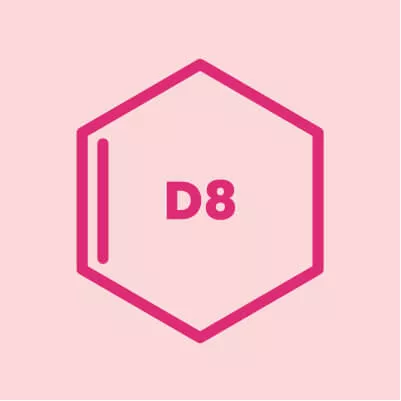 Frequently Asked Questions
Are Delta 8 edibles safe?
Medically, pure delta-8 is just as harmless as pure delta-9. There is no safe amount (because of the lack of regulation), but from a practical standpoint, there is no safe amount.
How long for Delta 8 gummies to kick in?
Most edibles based on cannabinoids can take a little longer to begin working. In most cases, you will begin to feel the effects within 30 minutes. However, it may take up to four hours for the effects to reach their peak.
Do Delta 8 edibles make you high?
The high associated with delta 8 THC edibles is more subdued than the one associated with delta 9 THC edibles, according to those who have tried them. The effects may include tiredness, relaxation, and hunger. Generally, users report feeling more clearheaded than with d9 THC, and these effects are predominantly localized to the physical body.
Can drug dogs smell delta 8 edibles?
Drug dogs are trained to detect certain terpenes. There is a possibility they may be alerted if the product contains terpenes. According to Dan Hayter, who founded K9 Global Training Academy and was formerly the lead dog trainer for the military's drug teams, edibles can be traced.
Are Delta 8 gummies safe?
They are! Not only is delta 8 a hemp-derived cannabinoid, making it one of the safest compounds on the planet, but here at Diamond all of our products go through a rigorous third-party testing process. It's our guarantee to you that only the best delta 8 gummies make it to our store. Everyone loves delta 8 and one of the best ways to enjoy this all-natural hemp cannabinoid is with a gummy. Delta 8 gummies are one of the most popular ways to consume this buzzy cannabinoid as it offers you an instant feeling of excitement and euphoria.