Fresh Delta-9 THC Gummies - Mystery Mix - 600MG
Product Info
We've finally done it! They said it couldn't be done, but we did it... yes, we brought delta 9 thc to you! All-natural (and all-legal) hemp-derived delta 9 thc, courtesy of Fresh brand gummies is here and it is AMAZING! So, get broody and mysterious with our deliciously Fresh Delta 9 THC Gummies in Mystery Mix. 600mg of these delta 9 and CBD-infused treats will have you solving riddles and explaining mysteries left and right.
How is this possible? How can we have delta 9? After all, they should be breaking down our door! Our site should be closed down for good! Fear not, savvy customer, because delta 9 thc, the kind derived from legal hemp is now fair game for all. That's right, thanks to our friends in Congress (yes, Congress!), hemp-derived delta 9 is legal for all to enjoy. Of course, they could change their minds so you better hurry! Grab these gummies while they are still Fresh!
At 10mg of delta 9 AND 10mg of CBD per gummy, these mysterious treats will have you feeling mild and mellow in a variety of (top secret) flavors. This succulent mix gives you a whopping 30 gummies per jar, and the fun is only beginning. Chill out and stay Fresh with our Delta 9 THC Gummies.
Our first ever product infused with delta 9 CBD, these gummies are an exciting combination of hemp-derived delta 9 and CBD made just for your enjoyment. Just like all our other products, our Fresh Delta 9 THC Gummies in Mystery Mix are rigorously tested for safety and purity by third-party labs. Grab some Fresh Delta 9 THC Gummies in Mystery Mix today. You'll be happy you did!
Strength Per gummy
20mg/gummy
Delta 9 Per gummy
10mg/gummy
Sugar, Tapioca Syrup, Corn Syrup, Water, Pectin, Citric Acid Natural Flavors, Fruit And Vegetable Extract (Color), Hemp-derived Delta-9 THC extract, And Hemp-derived CBD.
Active Ingredients
Delta 9 Products are all-natural, hemp-derived cannabinoids made popular because of their bold, buzzy, and legal high. These products are available in many forms, including gummies, chocolates, and vapes. Most people enjoy Delta 9 Products for their ability to enhance your mind.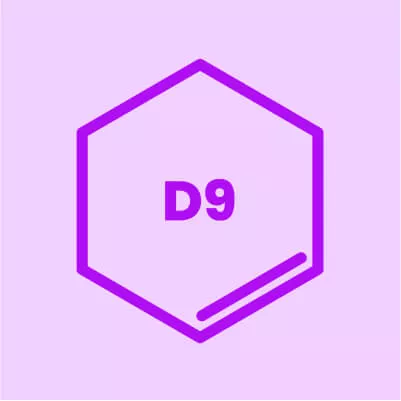 Frequently Asked Questions
What are Delta 9 edibles?
Delta 9 edibles are edible products infused with delta 9 THC. They come in a variety of flavors and strengths, including chocolates and gummies.
Is delta 9 THC legal?
On a federal basis, yes! Hemp-derived delta 9 THC meets the FDA requirement of containing less than 0.3% THC by weight, so it's legal to sell and consume. However, cannabis laws vary from state to state, so we recommend looking into your state's laws before purchasing.
Is delta-9 the same as marijuana?
Not exactly! While delta 9 is the same chemical compound found in traditional cannabis, these products are derived from the hemp plant, not from marijuana. This means that hemp-derived delta 9 THC is legal to sell and consume at a federal level.
What are the benefits of delta 9?
Most notably, delta 9 THC products such as gummies offer users euphoria and a feeling of bliss all over. There's a pure delta 9 high you can't get anywhere else (and a legal one at that since our delta 9 comes from hemp!). But moreover, delta 9 also has the benefit of promoting relaxation and better sleep, boosting creativity, stimulating appetite (and libido). It's also just great!
Edibles and gummies: what are they?
Infused with all-natural cannabinoids derived from hemp, edibloes or gummies are delicious, fruity sweets. Yummy childhood snacks packed with the wellness you need in adulthood! Gummies may cause a buzz or a psychotropic high.