Forbidden Fruit Vape Pen - Delta 8 - Disposable - Chill Plus - 1800mg
Product Info
Give yourself a break with 1800mg of Forbidden Fruit strain infused into Delta 8 Disposable Vape Pens from Chill Plus. With Vape Pens from Chill Plus, you can kick back and relax while enjoying a bold new strain that electrifies your endocannabinoid system and works overtime to chill your body to the core. Get buzzed and go higher.
With Chill Plus Disposable Vape Pens, you get a new and novel cannabinoid and a smooth and subtle psychotropic buzz. It's an unbelievable way to spend time in deep thought or with some friends, and find a new way to see the world while clearing your head. Chill Plus vapes will get you moving and help you fight those work-week blahs.
So experience something new with Chill Plus Forbidden Fruit Vape Pens. They will transform your life and push the nightmares out of your head. With 1800mg of Delta 8 in one of our most powerful strains, you'll feel electric through and through.
Now available in your favorite strains, the new Chill Plus disposable vape pens offer freedom from the daily grind of it all. We send our cannabinoids out to third-party laboratories, in a concerted effort to keep our products safe and you free from harm. All certificates of analysis are available for you to peruse online.
Strength Per puff
3.75mg/puff
Delta 8 Per puff
3.75mg/puff
Hemp-derived Delta-8 THC extract and Natural Terpenes.
Active Ingredients
Delta 8 Products are all-natural, hemp-derived cannabinoids made popular because of their bold, relaxing, and buzzy high. These products are available in many forms, including gummies, vapes, and concentrates. Most people enjoy delta 8 products for their ability to enhance your mind.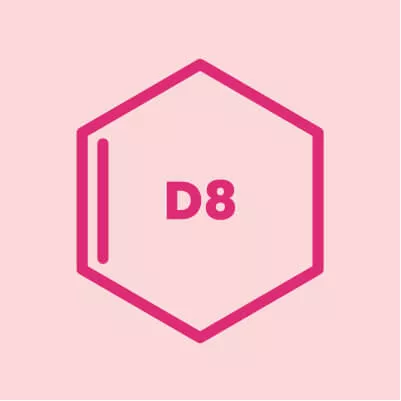 Frequently Asked Questions
Do delta 8 dabs get you high?
Yes! Due to the product's high concentration of delta 8, taking delta 8 dabs is one of the most potent delta 8 experiences available today.
Are delta 8 dabs safe?
As long they are made by a responsible, reputable manufacturer like Diamond CBD, delta 8 dabs are 100% safe to consume. That said, they are very strong, so beware of dosages when first ingesting this product, even if you've dabbled in other delta 8 products before.
Are delta 8 dabs strong?
Yes. Delta 8 wax is one of the strongest and most potent delta 8 THC products on the market today.
Is Delta 8 legal?
The sale and distribution of delta 8 products may currently be impermissible in certain states and subject to change in any state. Therefore, it is highly recommended that any purchaser contact and consult legal counsel licensed in that particular jurisdiction for a legal opinion.
How much THC is in Delta 8?
Because delta-8 thc is derived from all-natural, non-GMO hemp grown here in the USA, it contains no more than 0.3% THC, as allowed by federal law. However, delta-8 content will vary by product.