Chill Plus Delta-8 THC Premium Belgium Milk Chocolate With Caramel - 500MG
Product Info
Belgian Milk Chocolate with Caramel is now a bit buzzier thanks to pure, unadulterated Delta-8 THC infusion. Chill Plus Delta-8 THC Milk Chocolate with Caramel is an always sweet, pure milk chocolate bar infused with 500mg of non-GMO, refined, hemp-derived Delta-8 THC. Every bite is more than a snack; it's a luscious, creamy, psychotropic trip embedded with sugar and hemp-based euphoria. It's a Milk Chocolate bar made by Belgian chocolatiers, rich with flavor and popping with buzz. The Chill Plus Delta-8 THC Milk Chocolate Bar with Caramel is pure satisfaction.
Delta-8 THC is the only all-natural hemp-derived cannabinoid with a little bit of something more to brighten up your day. You'll feel yourself enveloped in a smooth and subtle embrace of euphoric bliss, unlike anything you've ever experienced before in your life. Better still, Delta-8 THC is one of the few cannabinoids that offers you several extra benefits as well. It's the latest hemp-derived cannabinoid to hit the market, cultivated on non-GMO farms for your pleasure, and it will have you feeling fabulous. Thanks to our higher than high standards, it's completely safe too.
With the Chill Plus Delta-8 THC Milk Chocolate Bar with Caramel, you'll devour 500mg of Delta-8 perfection. We've brought together smooth, satisfying, Belgian chocolate from the best candy makers in the world, the sweetest, stickiest, gooiest Caramel we could find, and pure Delta-8 THC — the only cannabinoid with a buzz that leaves you feeling fresh on your feet. Unlike other psychotropic highs, Delta-8 THC keeps you grinning ear to ear without the side effects that kill your buzz. There's no paranoia or anxiety in this Belgian chocolate.
Better still, our Delta-8 THC chocolate edibles are third-party tested for safety and efficacy, so you can rest assured that you're only purchasing the best. We use homegrown hemp from here in the USA and test every batch to ensure everything is perfect. So try a Chill Plus Delta-8 THC Milk Chocolate Bar with Caramel today and see what the combination of Belgian chocolate and Delta-8 can do for you!
Strength Per square
33.33mg/square
Delta 8 Per square
33.33mg/square
Belgian milk chocolate Couverture (Min. cocoa 33.6%), Sugar, Cocoa butter, Whole milk powder, Cocoa mass, Emulsifier, Soya lecithin, Caramel, Natural vanilla, and Hemp Extract. Certified Kosher.
Active Ingredients
Delta 8 Products are all-natural, hemp-derived cannabinoids made popular because of their bold, relaxing, and buzzy high. These products are available in many forms, including gummies, vapes, and concentrates. Most people enjoy delta 8 products for their ability to enhance your mind.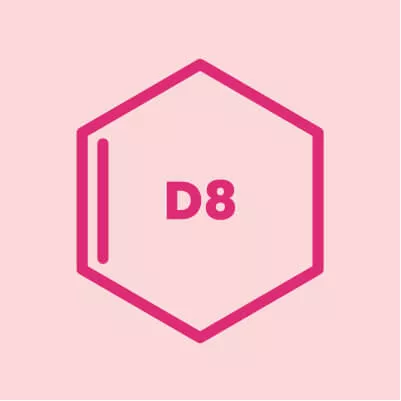 Frequently Asked Questions
How long does Delta 8 edible take to kick in?
A number of factors determine the time it takes for delta 8 edibles to kick in. It is imperative to take into account the user's body size and metabolism. Additionally, it can also depend on the previous use of the cannabinoid and individual tolerance levels. D8 edibles generally require 30 minutes or more to take effect. Depending on the individual, it may take several hours for the edible to break down and release the cannabinoids.
How does delta 8 chocolate work?
Delta 8 chocolate is like any edible (except much more delicious!). It comes on slow and hits you hard. You only need to eat one or two squares to really feel the effects.
How long does Delta 8 edibles stay in your system?
Despite delta-8 THC's effects lasting up to five hours in your body, metabolites persist for up to 90 days. Metabolites are only detectable for a few days with common tests. You may still test positive after 30 days if you are a chronic user.
What type of delta 8 chocolate do you have?
Our delta 8 chocolate comes in different varieties including dark chocolate and milk chocolate. We even have some Belgian delta 8 chocolate!
Are Delta 8 edibles safe?
Medically, pure delta-8 is just as harmless as pure delta-9. There is no safe amount (because of the lack of regulation), but from a practical standpoint, there is no safe amount.