Chill Plus Delta-8 Herbal Shisha - Bubblegum - 950MG
Product Info
It's a tobacco-free herbal buzz that really pops! Now you can feel the buzz with Chill Plus Delta-8 Herbal Shisha, a Bubblegum flavored herbal shisha for the discerning hookah smoker that wants something more. You get 950mg of all-natural, hemp-derived Delta-8 THC that's tobacco-free and tastes great. And with our poppin' Bubblegum flavor, you'll really have something to chew on.
What is herbal shisha? And why choose a herbal shisha with Delta-8 THC? Herbal Shisha is the preferred way to enjoy a relaxing moment with your hookah. With Chill Plus Delta-8 Herbal Shisha, now in Bubblegum, your hookah experience will go to the next level, thanks to the only legal cannabinoid with a buzz. It's an herbal sensation that's tobacco-free, now with a full-body buzz that everyone can enjoy.
Chill Plus Delta-8 Herbal Shisha in Bubblegum is an all-natural, hemp-derived product that brings together the best of two worlds. Herbal shisha's give you a hookah experience filled with tea leaves, molasses, honey, sugar cane, and more as an alternative to tobacco, while Delta-8 gives you the subtle euphoria you desire. Together, it's a combination that lets you fly. And with the sugary flavor of Bubblegum, Chill Plus Delta-8 Herbal Shisha is a defining experience.
Try Chill Plus Delta-8 Herbal Shisha in Bubblegum today. Like all of our Delta-8 THC products, Chill Plus Herbal Shishas are third-party tested for quality assurance, with all lab results made available on our website. You're guaranteed a pure, unadulterated hemp product with no carcinogens or synthetics, just the best Delta-8 THC you can find.
Cane Molasses, Honey, Glycerin,Hemp Extract, Flavoring.
Active Ingredients
Delta 8 Products are all-natural, hemp-derived cannabinoids made popular because of their bold, relaxing, and buzzy high. These products are available in many forms, including gummies, vapes, and concentrates. Most people enjoy delta 8 products for their ability to enhance your mind.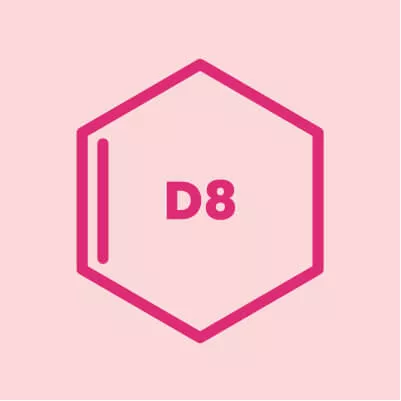 Frequently Asked Questions
How to use a disposable Delta 8 vape pen?
To use the vape, all you need to do is find the button that lights up the Delta 8 THC in the pen. To use the vape, simply press the button and hold the mouthpiece in your mouth. It should light up as soon as you click the button, letting you know it's working.
Are disposable Delta 8 vapes safe?
They are! Not only is delta 8 a hemp-derived cannabinoid, making it one of the safest compounds on the planet, but here at Diamond all of our products go through a rigorous third-party testing process. It's our guarantee to you that only the best delta 8 disposables make it to our store. Everyone loves delta 8 and one of the best ways to enjoy this all-natural hemp cannabinoid is with a disposable vape. Delta 8 disposables are one of the most popular ways to consume this buzzy cannabinoid as it offers you an instant feeling of excitement and euphoria.
What is a pre-roll?
As the name implies, a pre-roll is an already rolled joint. They come infused with many different cannabinoids, from delta 8 to HHC and more. 
How long does it take for a pre-roll to start working?
In most cases, you will be able to feel the effects of your pre-roll within 1-2 minutes, and they will last for 60-90 minutes after you have taken it.
Is it true that smoking hemp makes you high, just like smoking marijuana?
It depends on the cannabinoid. Hemp contains negligible amounts of THC, the chemical in marijuana which cause that high feeling. But hemp contains a number of other cannabinoids that do cause a high, including delta 8, HHC, and more. Hemp and marijuana come from the same genus of plant, cannabis sativa, and they are two different plants altogether.