Blue Dream Vape - Delta 10 THC - Disposable - 10x - 700mg
Product Info
When your vape pen isn't cutting it, you need something with 10X the energy and focus. 10X Delta-10 THC Disposable Vape Pens, now in Blue Dream, offer you a burst of energy, focus, and creativity in one easy-to-use disposable vape pen that goes anywhere. Now you can enjoy our super-amped blend of Delta-10 and Delta-8 THC that will jolt you back into action. It's 700mg of the best, all-natural, hemp-derived cannabinoids that we have to offer — in a super-delicious Blue Dream.
Delta-10 THC is the buzziest cannabinoid made from hemp since Delta-8. You'll feel energized, amped, and ready to take on the world. How does it work? Delta-10 THC is one of the hundreds of cannabinoids found in the hemp plant that we can now extract legally. Its smooth but subtle sativa-like buzz gives you energy and focus while helping your creative juices to flow. With Delta-10, there are no more late-day blahs.
And now, 10X Delta-10 THC Disposable Vape Pens are available in a sweet Blue Dream. It's a bold blend of Delta-8 and Delta-10 THC that combines for 700mg of your favorite new cannabinoid. With these Delta-10 disposable vape pens, you'll keep going all day long. And now you can enjoy them in everyone's favorite, our Blue Dream strain. It's a hybrid combination of sweet herbal and pine. You'll find this is one Blue Dream from which you'll never want to wake up. 
So get your creative juices flowing with 10X Delta-10 while supplies last! 10X Delta-10 Disposable Vaping Pens in Blue Dream contains 700mg of Delta-10 blended with Delta-8. As with all of our products, it's lab-tested and approved for your safety — guaranteed to be a pure, unadulterated product with no synthetics. Our Disposable Vaping Pens contain no Vitamin E Acetate whatsoever, and all of our lab results are available online for inspection.
Active Ingredients
Delta 10 Products are all-natural, hemp-derived cannabinoids made popular because of their energizing effects. These products are available in many forms, including gummies, vapes, and oils. Most people enjoy Delta 10 Products for their ability to help them accomplish more.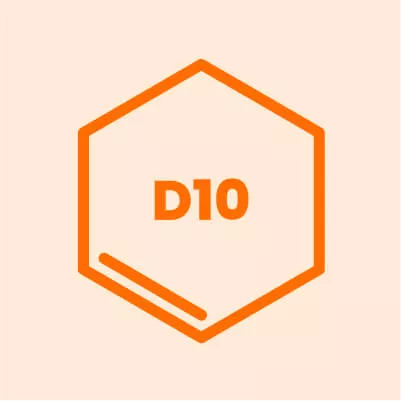 Frequently Asked Questions
Why choose vape oil?
Vape oil, such as the type found in carts and pens, hits faster than an edible. When you puff it goes through your lungs and straight to your blood stream. An edible take s afew hours to come up.
What is the brand 10X all about?
Here at Diamond, we strive to bring you the best cannabinoid brands available anywhere, and 10X is exactly that: a smooth, rich, and powerful buzz worthy of the best customers around. With 10X vapes and edibles, you can make your cannabinoid experience a 10/10!
Are 10X products safe to consume?
Absolutely! Diamond doesn't just sell the best cannabinoids on the market today, we also take pride in our rigorous safety standards and third-party lab testing for safety, purity, and efficacy. 
What 10X products are available on Diamond?
Diamond's offers a variety of 10X products, like smooth vape oils—including disposable vapes and vaping cartridges— as well as delicious edibles. 
In which states is Delta 10 THC legal?
Currently, Delta-10 is legal in the following states: Alabama, California, Colorado, Connecticut, Florida, Georgia, Hawaii, Illinois, Indiana, Kansas, Kentucky, Louisiana, Maine, Maryland, Massachusetts, Michigan, Minnesota, Missouri, Nebraska, New Hampshire, New Jersey, New Mexico, New York, North Carolina, North Dakota, Ohio, Oklahoma, Oregon, Pennsylvania, South Carolina, South Dakota, Tennessee, Texas, Vermont, Virginia, Washington, West Virginia, Wisconsin, Wyoming.
Recently Viewed