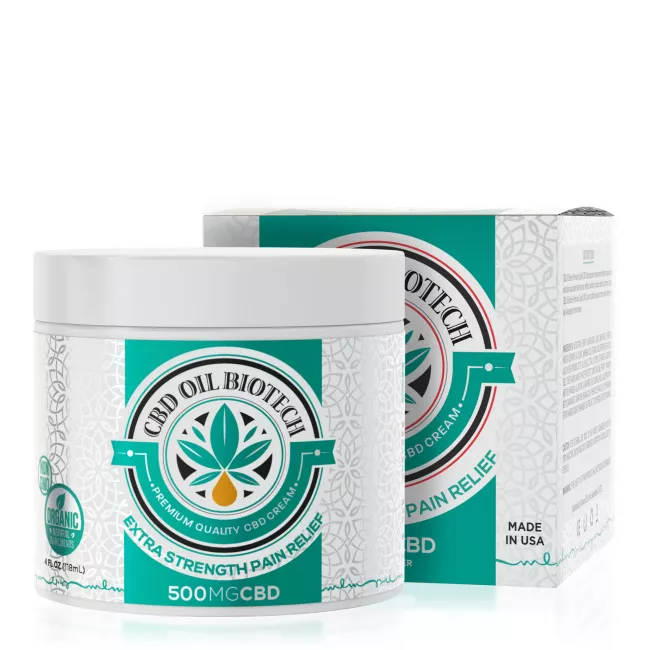 Biotech CBD Cream - 500mg
---
Products of the Same Brand
Frequently Bought Together
---
Steve B. on September 3, 2018
Very good, I started using 250 mg cream about 3 weeks ago and noticed a significant improvement in my knee with arthritis and 2 torn meniscus. After a week I could walk without a limp.

Very happy with the results.
Kimie M. on September 3, 2018
Worked right away an I stayed in no for good 8 hours...will b buying again
David S. on September 2, 2018
My wife and I continue to buy this product. We rub it on for lower back pain. I also use it for shoulder pain and my wife uses it on her hands and feet. It really helps reduce our aches and pains.
Patricia G. on September 1, 2018
I love this product! I have back issues and knee problems. I use the cream twice a day, no pain and I can continue walking my 2 miles. It's wonderful
Pat R. on August 24, 2018
The cream is all separating and is very greasy. Really don't like it
Kathie M. on August 22, 2018
I love this cream, smells good, goes on smooth and relieves pain.
Debra L. on August 22, 2018
Works really well for temporary topical pain relief. Smells nice, too!
Donald E. on August 22, 2018
I educated myself on this market from a investor perspective originally. Have tried mutable product on my 82 year old mother,the 500 MG wasn't strong enough. She has rheumatoid arthritis,shoulder and back area. Started purchasing the 1000 MG months ago and the results have been extreamly positive. My father uses it at night prior to bed time and twice a day. My only two issues are the 4oz size for adverse selection clients who utilize more product. And your 1500 MG product is not usually available. Don
Grace M. on August 22, 2018
Works well. Do not care for the smell.
Ashley M. on August 21, 2018
Absolutely love this, works beautifuly. Helps with my fibromyalgia pain!
Graham T. on August 21, 2018
It's great for muscle aches and pains. Really does help. I just recommended it to a friend of mine. Helps with arthritis and joint cramping
Christian W. on August 21, 2018
Great smell and boy it works wonders
Robert P. on August 21, 2018
I dont know. Had shoulder pain. It didnt seemed to relieve pain
Rhett C. on August 21, 2018
Short term relief from
Knee pain after TKR.
Anthony N. on August 21, 2018
Helped with my stiffness In shoulder . Looking for way to trying the 1000mg for a better result
Lauren B. on August 21, 2018
This product is a miracle, it helps not just me but my mom uses it too. She loves it too!
Mark S. on August 21, 2018
Ted R. on April 6, 2018
Jason C. on April 5, 2018
I was skeptical but purchased it for a shoulder injury, It took a few days but it has helped tremendously.
Patricia S. on April 5, 2018
Excellent and I have let friends know about this product and they have chosen to purchase it too.
Julius H. on April 5, 2018
More.than I ever expected.from the cream. Very pleasant surprise in the reduction of pain. Definitely this cream over any pills available. Thanks !
Eileen M. on April 5, 2018
Good. Like the smell and the consistency. Plus it works to reduce pain!
Denise M. on April 3, 2018
Really helps my pain. Thank you
Jonathan C. on April 3, 2018
It is a great product that is very effective.
Denise S. on April 3, 2018
Bought this primarily for my husband who has a severe wrist/hand injury. It did provide some relief. I've since ordered 1000mg CBD Cream which has been a better level pain relief cream for him. Also, I use the cream on my feet to relive heel pain. Thanks for making this product available!
Countvoo. on March 20, 2018
I am a investor, and know these are the times to get on the emerging cannabis markets. PotNetwork-Diamond was one of the companies that I had researched and invested into.I feel it is always additionally important to personally evaluate any customer-oriented company as to their product quality and customer relations.
I initially ordered product from Diamond primarily for this evaluation purpose only.
After using Diamonds products, and finding good results, I became a regular returning customer. In addition, due to a miscommunication in one of my orders, I found that the customer-support staff is absolutely great in responding to my issue, and resolving in my complete satisfaction!
This is a 5 Star company and staff!
Diana R. on March 14, 2018
I use this cream and love it It helps me with my back pain which I have had for 5 years and never got any relief from any other cream. I definitely would recommend it.
Sheri L. on March 13, 2018
It's a miracle worker . I use it on my back and it works well however , it's a bit pricey and it wears off sooner than I would like. Other than that I highly recommend it!
Melburn S. on March 13, 2018
It works some but my wife has SEVERE Osteoarthritis and the results do not last very long. I even bought the 1000 mg version and got the same results. Her pain is simply more than your or ANY OTHER product I have purchased can handle.. Having said that I will no doubt buy again,
Mary L. on March 13, 2018
I was surprised by the minty smell, very nice. I have been using this 2x daily and have experienced more flexibility. I had a cervical fusion c4-7 and over time arthritis and scar tissue has taken a toll. I have a lot of nerve pain and am trying to get off Gabepentin (sp) this has helped me quite a bit even with the cold of winter. I hope at least you give it a try.
KYRA A. on March 13, 2018
It great use it for chronic pain relief.
Nathan C. on March 12, 2018
Better than ibuprofen! Rub just a little bit of that **** on and pure pain relief for 4-6 hours. Feel better than a new born baby.
Linda B. on February 13, 2018
the creme has helped my sciatica pain- I rub it on for several days then I actually don't have the pain for several days after! I also Use the cbd oil when I go to bed because it actually helps (sleep apnea) I don't wake up as often as I am accustomed to. I will buy this again! I have given samples to a neighbor she will also be using it! so this stuff really helps but I am thinking it helps more when it is like a nerve pain- that is my thought
RhondaKay C. on February 8, 2018
I used this on my frozen shoulder for spasm relief on arm, works made the spasms end :)
Adam T. on February 8, 2018
Good results with this product use it daily
Sheri B. on February 7, 2018
I love this stuff! I can walk and even do stairs again! No more limping!
Ben H. on February 7, 2018
100% Satisified knee and ankle pain that would cause me to skip activities gone put on a 1/2 hour before and no problem
Jaclyn H. on February 7, 2018
I bought this as a Christmas gift for my dad. He has sore hips and knees due to old age. He uses it twice a day before and after work. It really helps with the pain. My mother had a sore wrist one day, used the cream and was in disbelief how it helped and removed the pain! Definitely will purchase again !
Cheryl S. on February 7, 2018
Excelleant after a workout of injured muscles bone. Great
Mary J. on December 17, 2017
I used it for for knee, lower belly cramps and my hips. This really works for the spasms
Carol M. on December 15, 2017
Helps with muscle aches and arthritis
Ketha E. on December 15, 2017
I use for my fibromyalgia and it works wonders. I recommend to anyone with chronic pain!!!
Dushan M. on December 15, 2017
Excellent could not be happier
Kim W. on November 22, 2017
Ive only had this a week or so, I use it every day or two, I like it, it seems to help my pain, both neck and back. Also like it on my sprained wrist.
Shelley C. on November 20, 2017
This stuff has been amazing. It helps with my pain from a broken foot and repeatedly twisted ankles as well as my texter's thumb and migraines. It helps my boyfriend with his back pain from bulging discs.
Linda H. on November 17, 2017
The 500 mg works alot better for me. I have elbow pain an have been using Icey hot patch for months. I do not buy them anymore I have no night pain at all with the cbd cream 500 mg.
Lisa C. on November 13, 2017
James H. on October 12, 2017
the cream seemed to sooth my wife's aching arm pain, in joints and muscles.
Jim T. on October 3, 2017
I have enjoyed it so far. Feel less pain in my knees and hand. Has a nice smell to it.
Ruth S. on October 2, 2017
THIS CREAM WAS A LIFE SAVER. I HAVE BEEN USING THE VOLATRAN FOR MY BACK AND RIGHT KNEE. SOMEONE INTRODUCE THIS TO ME AND IT REALLY WORKS. I USE IT MORNING AND NIGHT WHERE WITH THE VOLATRAN I WAS USING THREE AND FOUR TIMES A DAY. THASNK YOU FOR IT. I WAS ON MY COMPUTER YESTERDAY AND YOU SENT AN E-MAIL TO ME THAT EVERYTHING WAS FIFTY PERCENT OFF SO I HURRIED TO THE CREAMS AND THEY WERE ALL SOLD OUT ALREADY. HOW CAN THAT HAPPEN WHEN I JUST GOT THE E-MAIL. I WAS VERY DISAPPOINTED IN THAT AND MADE ME FEEL I WON'T COME BACK IF THAT IS WHAT IS GOING TO HAPPEN. I HOPE YOU PUT IT ON THE COMPUTER AT THE SAME TIME FOR EVERYONE TO HAVE A CHANCE WITH IT AS I JUST LOST MY HUSBAND AND I CANNOT PUT ALOT OF MONEY OUT AND IF I SEE A SAVINGS LIKE THAT I WANT TO TAKE ADVANTAGE OF IT. I KNOW I DON'T HAVE MUCH LET BUT AM USING IT SPARINGLY TO MAKE IT LAST. IT SURE BEATS HAVING SURGERY AND GOING TO PAIN DRS. THANK YOU AGAIN FOR IT. RUTH