January 22, 2019
Invasion of The Brain Chillers: Our CBD Slushy Machine Is Here!
And now for something completely different. For the first time ever, Diamond CBD is offering something you can only find in your favorite stores that carry our ever-popular CBD products. So, could we interest you in a delicious, ice cold, sweet and slushy, CBD-infused Brain Chill?
Just don't drink it too fast or, you know, "Brain Freeze!"
Since you, most welcome customer, are not going to be able to rush out at this very moment and buy one of these CBD-rich refreshments, this announcement is more for those brave souls out there who run brick-and-mortar establishments that sell CBD products. This Brain Chill slushy machine's for you.
And it's for your in-store customers.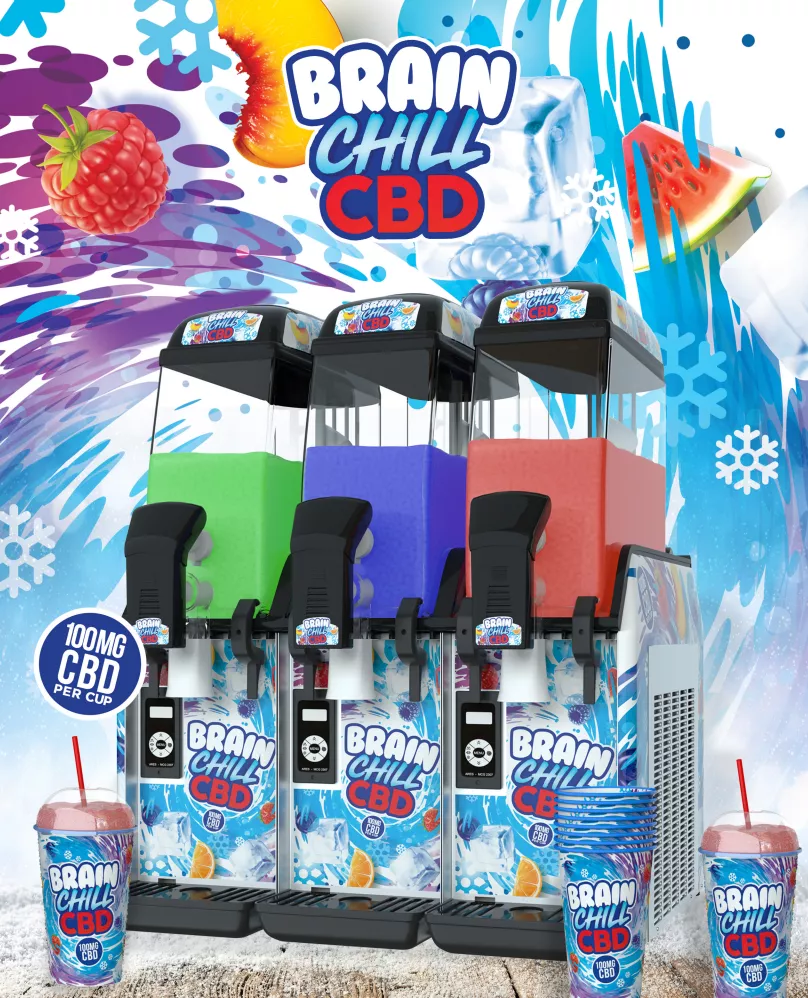 Entice New Customers With A Frozen CBD-Slushy Delight
If you already sell Diamond CBD products then you know that we're is a leader in hemp-derived CBD products. If you're not aware of this fact, consider yourself informed.
One of the superpowers that make us a leader in this market is our understanding of what our customers — and yours — want. We understand that CBD is new to a lot of folks out there, and you need ways to pique their interest in CBD and show them just how chillaxed and relieved they might feel if they give it a try. And what better way to grab their attention than offering them one of these CBD-packed Brain Chill slushies?
Who can turn that down?
Brain Chill slushy machines serve frozen slush drinks with the touch of a button. Available in Cherry, Cola, Grape, and Blue Raspberry flavors, these puppies are infused with a full 100 milligrams of high-quality, full-spectrum CBD extract.
The machines are bright and colorful and provide an innovative way for retailers to elevate their sales and make their stores stand out. The machine dispenses colorful slush into clear bowls.
And, get this, the bowls even have LED lights in the lids. It's near impossible to resist and sure to get the attention of your customers.
A Wide Variety of Options For CBD Slushy Goodness
The slushy machines are available in single, double, and the triple-tank configurations. The single-tank machine has two 3.2-gallon independently controlled bowls with LED lights and a seal-less drive shaft that reduces preventative maintenance costs. It also has continuous mixing action with horizontal and vertical augers, gauge consistency with slush density indicator, night mode to save energy, and onboard diagnostics for easy troubleshooting.
So for all convenience store owners and CBD product store owners who want to drive up sales and get customers talking, the Diamond CBD Brain Chill Slushy Machines are an awesome way to attract new customers and capitalize on an important investment opportunity.
To get the slush rolling, we'll be launching out our first wave of machines across South Florida. If you're interested in getting involved in the Brail Chill revolution, send us an email and we'll hit you back with more info.
If you're not a store owner, but this article has made your mouth water for some CBD deliciousness wing on over to our CBD edibles section and grab yourself some CBD gummies, chocolates, honey, cake pops, while you wait for the Brain Chill invasion to reach your neighborhood.