Welcome, fellow enthusiasts, to Diamond CBD's 4/20 extravaganza! Are you ready to experience the ultimate celebration of all things cannabis? This year, we're going bigger and better than ever, with an incredible week of sales and a chance to win a $500 store credit! And winning is easy! Just submit your entry on the contest page when prompted to do so on our website  - no purchase necessary! So, grab your favorite strain, charge your vape, and get ready for a trip down memory lane as we explore the history of the 4/20 holiday.
For decades, cannabis enthusiasts have been gathering on April 20th to celebrate the magical herb that brings us so much joy and relaxation. The origins of 4/20 are shrouded in mystery and myth, but one thing is for sure: it's a day for all of us to come together and revel in the joys of Mary Jane.
Your One-Stop Shop for All Things 4/20 (Plus Sign Up Here to Win!)
At Diamond CBD, we're proud to offer a wide range of products to help you celebrate in style. Whether you're into delta 8 gummies, delta 10 disposable vapes, HHC carts, or blend products, we've got everything you need to make this 4/20 one to remember. And with our incredible week of sales, including a BOGO that will get you BO-going (wink, wink), you can stock up on all your favorites without breaking the bank.
But that's not all! We're also giving three lucky winners a $500 store credit. That's right. You could be the proud owner of a Diamond CBD shopping spree! All you have to do is enter for your chance to win — No purchase necessary!
So, what are you waiting for? Take advantage of the biggest and best 4/20 celebration of the year. Check out Diamond today, including our latest products, and enter for your chance to win big. All you have to do is click on the sign-up button below. Happy 4/20, fellow cannabis lovers!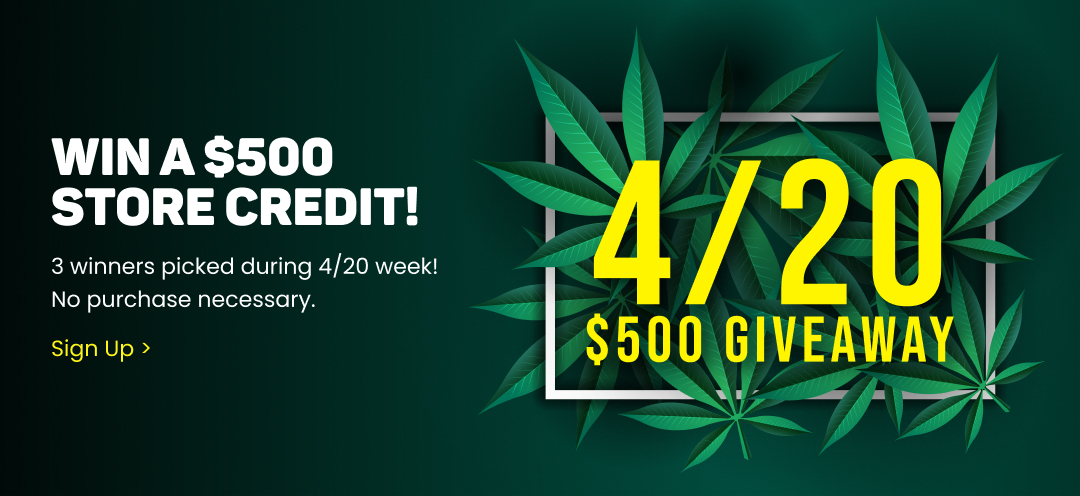 A Brief History of the 4/20 Holiday
Ah, the sweet aroma of cannabis can only mean one thing - it's 4/20! This beloved holiday has been celebrated for decades, but did you know its roots lie in a group of daring high school students from San Rafael, California, who met at 4:20 pm to search for a hidden cannabis crop? Those intrepid young souls had no idea they were laying the foundation for a global phenomenon that would symbolize the ultimate celebration of cannabis culture.
As the legend goes, these students would gather after school to search for a secret stash of cannabis plants rumored to grow in the nearby hills. It wasn't long before their search became a weekly ritual, and they would remind each other with the code phrase "420 Louis," - which meant to meet at 4:20 pm at the statue of Louis Pasteur, the French chemist, and microbiologist.
4/20? More Like Cannabis Xmas!
As the years went by, the term "420" became synonymous with cannabis culture, a secret code word that could be used to identify fellow enthusiasts. But it wasn't until April 20th, 1971, that the true power of 420 was realized. A group of San Rafael High School students planned a smokeout at 4:20 pm on April 20th, and thus the first official 4/20 celebration was born.
Since then, 4/20 has evolved into a global phenomenon, a day when cannabis enthusiasts from all walks of life come together to celebrate, advocate, and enjoy the sweet herb. It's a time to reflect on the progress made toward legalization and continue the fight for cannabis freedom. So, whether you're a seasoned smoker or a curious newcomer, light up, inhale deeply, and join us in celebrating this beloved holiday - Happy 4/20!

Diamond CBD Is Your 4/20 Headquarters
This 4/20, Diamond CBD is proud to introduce our latest products, perfect for celebrating the day. Our Blended Gummies and Vapes combine the power of delta 8, HHC, and THCP for a unique cannabinoid experience. Additionally, we're offering delta 8 and delta 9 gummies and vapes to cater to your preferences. Don't miss out on some truly fantastic additions to our product lineup, including the following:
And that's just a sample of our new arrivals.

A Whole Week of Sales
To make your 4/20 celebration even more special, we're hosting a week-long Buy 1 Get 1 Free sale during 4/20. And on 4/20 itself, customers who spend $75 or more will receive a FREE jar of our Sour High Gummies. And don't forget our deals and blowouts too! Be sure to take advantage of these amazing deals to stock up on all your favorite cannabinoid products.
Celebrate 4/20 in Style, and You May Win $500 in Store Credit!
Do you want to win a $500 store credit to Diamond CBD? Of course, you do! We're thrilled to announce that we're giving away this incredible prize to three lucky winners, and entering for a chance to win is as easy as can be. All you have to do is go here! Submit your email address and you're entered to win - no purchase is necessary to enter!
From April 16th to April 23rd, we're inviting all cannabis enthusiasts to enter our store credit giveaway. We know that Diamond CBD has the best products around, and we want you to experience them all without worrying about breaking the bank. With a $500 store credit, you could stock up on all your favorite products, try something new, and discover the perfect strain or accessory to suit your needs.
Need more reasons to enter? We came up with a few:
Reasons Why a $500 Store Credit Spree Rocks!

| Benefit of Winning $500 Store Credit at a Cannabinoid Retailer | Why It's Awesome |
| --- | --- |
| You can finally afford to try every single edible on the menu | Who doesn't love a good munchie fest? |
| Your friends will think you're the coolest person ever | They'll be lining up to be your new bestie! |
| You'll never have to share your stash again | Keep it all to yourself and indulge in some quality "me time" |
| You can experiment with new strains without worrying about the price tag | Time to get adventurous and try something new |
| You'll have the perfect excuse to throw a 420 party | You'll be the host with the most and everyone will want to come over |
| You can finally upgrade your smoking accessories | Say goodbye to that old, crusty pipe and hello to a brand new bong |
| You'll be able to stock up on CBD products for every ailment | Need a little something to help you relax? We've got you covered |
| You'll be supporting a business that advocates for cannabis freedom | You'll feel good about your purchase and help spread the word about the benefits of cannabis |
An Incredible Opportunity to Win Big!
So, take advantage of this incredible opportunity to win big. Imagine all the possibilities with a $500 store credit at Diamond CBD - the edibles, tinctures, and vapes await you! And even if you don't win, entering does no harm. It takes just a few seconds to submit your email address, and you could be one of the lucky winners who walks away with a huge prize.
In conclusion, the contest runs from April 16th to April 23rd, so make sure you enter for a chance to win big. And who knows? You could be one of the three lucky winners who enjoy a Diamond CBD shopping spree! Good luck!
What Are You Waiting For?
Take advantage of this incredible 4/20 celebration at Diamond CBD. With a week of sales, the chance to win a $500 store credit when you go here, and our latest products to explore, there's never been a better time to indulge in your favorite cannabinoids. So, what are you waiting for? Enter our contest now and join us in celebrating 4/20 in style!