Iowa is known for many things, including its impressive corn and pork production and the timeless Iowa State Fair. In recent years, however, it has become the center of controversy regarding delta 8, a popular cannabinoid throughout the country. Although the compound has been federally legal since 2018, some states have taken steps to heavily restrict it. But does the Hawkeye State disagree with the federal government, or is delta 8 legal in Iowa?
Is Delta 8 Legal in Iowa?
Before we dive into Iowa's delta 8 law, let's review the compound's legal history in the country. The Farm Bill, in particular, had a significant impact on the hemp market in the United States.
Also known as the Agriculture Improvement Act, the federal Farm Bill was passed in 2018. This bill made a significant distinction between hemp and marijuana in terms of legality despite their scientific similarities. Cannabis containing more than 0.3% THC is marijuana, while cannabis containing less than 0.3% THC is hemp.
The Farm Bill legalized hemp and all its derivatives, including compounds like delta 8. Federal law, however, still imposes strict restrictions on marijuana. The Biden administration recently released a statement explaining its efforts to reevaluate marijuana policy. In the meantime, hemp-derived cannabinoids containing 0.3% THC or less remain the only federally legal way to use cannabis recreationally.
But now, back to the Hawkeye State. Is delta 8 legal in Iowa?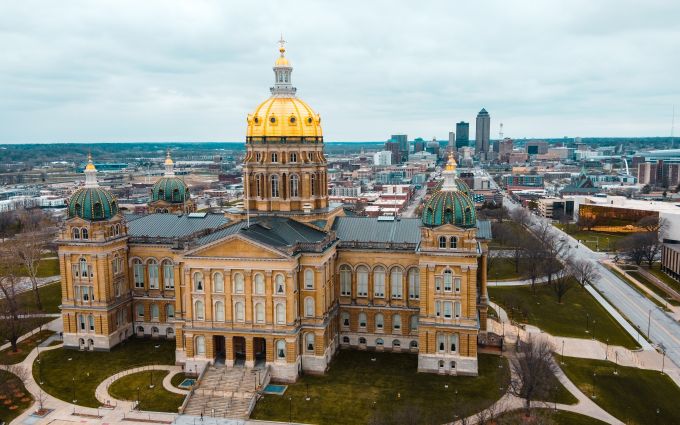 Delta 8 in Iowa
Unfortunately, Iowa is one of the few states that doesn't see eye to eye with the federal government's stance on delta 8. Although no specific legislation with delta 8 mentioned by name exists, delta 8 is illegal to use, possess, buy, sell, or produce in the state of Iowa.
In the Hawkeye State, nearly every part of the marijuana plant is illegal, including compounds like delta 8, according to Iowa state code §124.101 subsection 20. Even CBD, a non-psychoactive compound in the cannabis plant revered in medical fields for its many wellness benefits, is heavily regulated in the state. Code §124.101 includes CBD, making it effectively illegal in the state, but the Iowa Attorney General released a clarifying statement in 2020 stating that CBD is in fact legal under the Farm Bill and the state's Agriculture and Land Stewardship Department. Even so, Iowa has one of the strictest CBD laws in the country. They require that consumers register for a medical CBD card and purchase CBD at registered, state-approved dispensaries.
In an updated legislation, Iowa defines hemp similarly to the Farm Bill. Hemp and most hemp-derived cannabinoids are now legal in the state, but it maintains a ban on tetrahydrocannabinols derived from any cannabis plants in concentrations exceeding 0.3%.
This blanket statement includes compounds like delta 8, making it illegal in Iowa. Essentially, while the Farm Bill only caps delta 9 THC levels at 0.3%, Iowa caps all tetrahydrocannabinol (THC) contents.
Unlike other states, Iowa has not removed delta 8 from its Controlled Substances Act, making all tetrahydrocannabinols, their derivatives, and isomers illegal and controlled substances in the state.  
Another law, written in Chapter 162 of House File 524, clarifies that certain marijuana-derived products could be legal, but only if they have state approval, which is usually reserved for medical reasons.
Delta 8 will likely remain illegal in Iowa for the foreseeable future. The state has some of the nation's strictest cannabis laws, and regulators are extremely clear on what is and isn't allowed. Although medical marijuana is being adopted to some extent—and more on that later—any further legalization of cannabinoids doesn't seem to be on the table in the state of Iowa.
Shipping Delta 8 Products to & from Iowa
Because delta 8 is illegal in Iowa, it is not lawful to ship delta 8 to or from the Hawkeye State. In states where delta 8 is legal, many opt for online stores for many reasons. For starters, online retailers usually offer more transparency than physical stores; many online shops offer third-party lab tests and full ingredient lists on individual products.
Additionally, online stores offer much more variety, meaning that you can browse through thousands of products to find something that matches your lifestyle to a T.
Finding Delta 8 in Iowa Is Impossible Due to Heavy Regulation
Since delta 8 is illegal in Iowa, you can't (and shouldn't) buy delta 8 in the state. In states where delta 8 is legal, however, consumers have to be weary of the products they choose to purchase. In unregulated states, retailers don't need any licensing to sell delta 8. This means that customers need to look out for indicators of quality, safety, and transparency from sellers, such as third-party lab tests, ingredient lists, and organic hemp sources.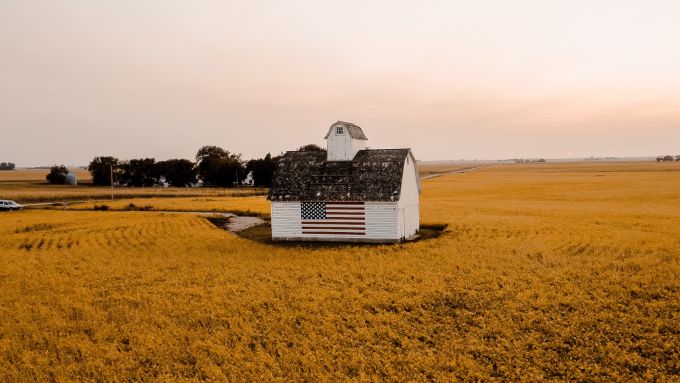 Delta 8 Is Illegal in Iowa, But Are Other Forms of Cannabis?
With delta 8 a controlled substance and, unsurprisingly, recreational marijuana strictly illegal, it seems that Iowa isn't too keen on the benefits of cannabis.
Possession of any amount of marijuana in the state of Iowa is classified as a misdemeanor. First-time offenders may face up to six months in jail, a fine of up to $1,000, or both. Penalties for a second offense include up to a year in jail and a fine of up to $1,875.
Any subsequent offense is an aggravated misdemeanor and carries a penalty of up to two years in prison and a fine of $625 to $6,250. Judges may also place defendants on probation in lieu of imprisonment, with certain conditions on the probation, including participation in drug treatments, rehabilitation, or education programs.
A marijuana possession violation within 1,000 feet of a school, public park, swimming pool, recreation center, or while in a marked school bus is punishable by an additional 100 hours of community service.
In 2014, a poll led by Iowa Poll showed that 59% of Iowans favored legalizing medical marijuana, but 69% opposed recreational marijuana. In February of 2019, however, a poll showed that Iowans were equal in support of and in opposition to the legalization of recreational marijuana (48%-48%). The same poll showed that 78% of Iowans were in favor of medical marijuana access expansion. In March of 2020, another poll showed an increase of support to recreational marijuana legalization (53%) and expansion of medical marijuana access (81%).
Despite voter wishes, however, Iowa legislators don't seem to be too keen on the controversial plant. Some lawmakers have tried to legalize cannabis in the state many times, but they have ultimately been blocked by opponents every time. So, recreational cannabis may be a reality in Iowa at some point in the future, but probably not any time soon.
In a surprising twist of events, however, the Hawkeye State has dazzled voters and observers with legal delta 9!
Delta 8 vs. Delta 9 in Iowa
As the main psychoactive player in marijuana, delta 9 has amassed gargantuan fame among stoners. But in Iowa, only delta 9 derived from hemp that contains less than 0.3% THC on a dry weight basis is legal.
We've already discussed the ins and outs of the federal Farm Bill, but Iowa soon followed suit with a state law of its own. In 2019, the Senate approved Senate File 2398, also known as the Iowa Industrial Hemp Act. The bill allows for the cultivation and processing of industrial hemp in the Hawkeye State. It was later amended by the Iowa Senate to include provisions for testing industrial hemp plants to ensure they do not exceed permissible THC levels. Additionally, the file specifies that industrial hemp may not be used to produce medical cannabidiol (CBD).
Senate File 2398 created two distinctive initiatives: the Industrial Hemp Commodity Program and the Industrial Hemp Production Program.
In May of 2019, the state signed Senate File 599, which began the process to allow for the production of industrial hemp in the state of Iowa.
In 2020, the USDA approved Iowa's implementation of its hemp program, clearing the way for individual farmers to grow up to 40 acres of hemp with THC levels of 0.3% or less, according to the Iowa Department of Agriculture.
Because of Iowa's hemp laws, hemp-derived delta 9 products have skyrocketed in popularity across the Hawkeye State. The law, however, doesn't allow for inhalable hemp products, so you can forget about hitting a delta 9 vape or rolling a delta 9 joint.
This makes other delta 9 products—such as delta 9 edibles (including delta 9 gummies and delta 9 chocolates), concentrates, and tinctures—insanely popular in the state, as long as they do not contain other cannabinoid compounds.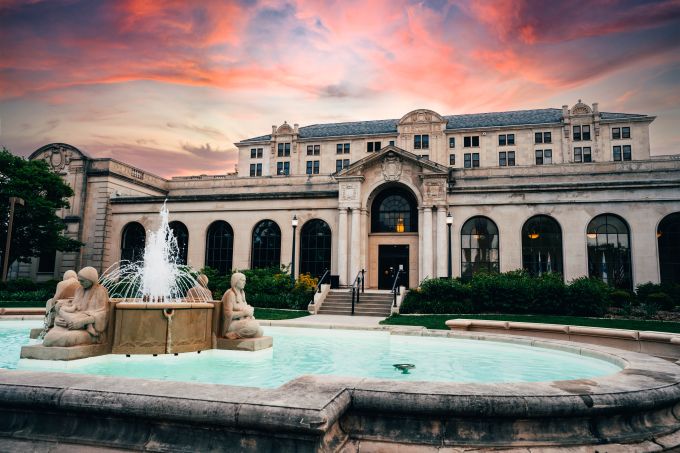 Iowa Cannabis Market Grows with Medical Marijuana (But Without Delta 8)
Iowa's delta 8 stance is spirit-crushing for many reasons, but medical marijuana is technically legal in the state.
Iowa Medical Cannabis Laws
In 2014, Iowa lawmakers enacted a restrictive law to allow certain patients to possess, but not purchase, low-THC cannabis oil without facing legal repercussion. The law was significantly revised in 2017 (House Bill 534) and then again in 2020 (House File 2589). With these changes, there is a much longer list of qualifying conditions, which include:
Chronic pain
HIV/AIDS
Chron's disease
Post-traumatic stress disorder (PTSD)
Amyotrophic lateral sclerosis (ALS)
Nausea or severe vomiting
Cachexia, or severe wasting syndrome
Parkinson's disease
Ulcerative colitis
Corticobasal degeneration
Multiple sclerosis (MS) with severe and persistent muscle spasms
Seizures
Any terminal illness (with a probable life expectancy of under one year and if the illness or its treatment produce severe or chronic pain)
Severe, intractable autism with self-injurious or aggressive behaviors
Cancer (if the underlying condition or treatment produce severe or chronic pain, nausea, vomiting, or cachexia)
In order to enroll in the program, patients must first obtain a written certification from their primary care provider, who must be a doctor, podiatrist, physician's assistant, or advanced registered nurse practitioner. Patients must also be permanent residents of the state. Patients under 18 must enroll through their caregivers.
The fees for a medical card are typically $100, but if the patient receives social security disability benefits, supplemental security insurance payments, or is enrolled in a medical assistance program, the fee is lowered to $25. Caregiver cards are also $25.
The law also comes with some limitations. Raw cannabis (flower) is not permitted; neither is smoking. In most cases, patients can obtain cannabis preparations containing no more than 4.5 grams of THC every 90 days. If a practitioner allows it, however, patients can find greater amounts.
So, even though CBD is legal in the state of Iowa, patients must obtain an Iowa medical marijuana card in order to be prescribed CBD products in the state. Higher-THC medical marijuana is not legal in the Hawkeye State.
Iowa Medical Cannabis vs. Delta 8
Although CBD is legal in the state, Iowans need to jump through several hoops in order to obtain the compound. Without legal delta 8 as a simpler alternative, those who don't qualify for or can't afford Iowa's medical marijuana cards are, unfortunately, out of luck.
In states where delta 8 is legal, the compound acts as an adequate replacement. Because delta 8 is a milder analog of delta 9, it offers virtually the same benefits as the compound, albeit to a lesser extent.
Are Other Hemp-Derived Cannabinoids Legal in Iowa?
Delta 8 may be the star of the show when it comes to hemp-based products, but the compound has many relatives. These include the energizing delta 10, euphoric HHC, and psychedelic THCO.
All of these cannabinoids have risen in popularity nationally and worldwide, but, unfortunately, Iowans won't be able to reap the benefits of any of these compounds.
Because of Iowa's state laws, the same restrictions apply to other hemp-derived cannabinoids containing tetrahydrocannabinols.
Is Delta 8 Legal in Iowa: Final Thoughts
So, is delta 8 legal in Iowa? Unfortunately, it is not. Delta 8 remains a controlled substance in the Hawkeye State, and it's likely to stay that way for a long time. That said, delta 9 made from hemp containing less than 0.3% THC is legal for recreational and medical use in the state, and Iowa does have a low-THC medical marijuana program that allows qualifying patients to obtain cannabidiol legally.
Although delta 8 is illegal in the Hawkeye State, here's to hoping one of the nation's strictest states has a change of heart on the subject!