August 29, 2018
Why CBD Honey Sticks Make Everything Taste Sweeter
CBD Honey Sticks were made for those of you that love to spend a little extra time in the kitchen. That's right; this one is for our foodies out there! All-natural, delicious sticks of honey filled with CBD oil make everything taste better, and they'll completely change the way you think about CBD (and you'll remember from this great article just how good we are at changing the way you think about CBD oil for the better).
How CBD Oil Met Honey
But we didn't add our industrial hemp CBD oil to honey just because it makes everything taste better. Besides being absolutely delicious, honey is rich in vitamins and minerals. Honey is a natural antioxidant, which gives your immunities an extra-extra (extra!) layer of protection.
Combine this with the potential benefits of CBD oil, and you're talking about a heck of a sweet treat. That's what you have with our CBD Honey Sticks. In fact, our all-natural CBD Honey Sticks are the perfect on-the-go treat. They have 10 mg of CBD oil packed in each stick, and can easily and discreetly be carried with you anywhere you go.
Whether it's a pick-me-up after your morning jog or a replacement for sugar in your tea, CBD Honey Sticks are a great way to take your daily dose of CBD oil.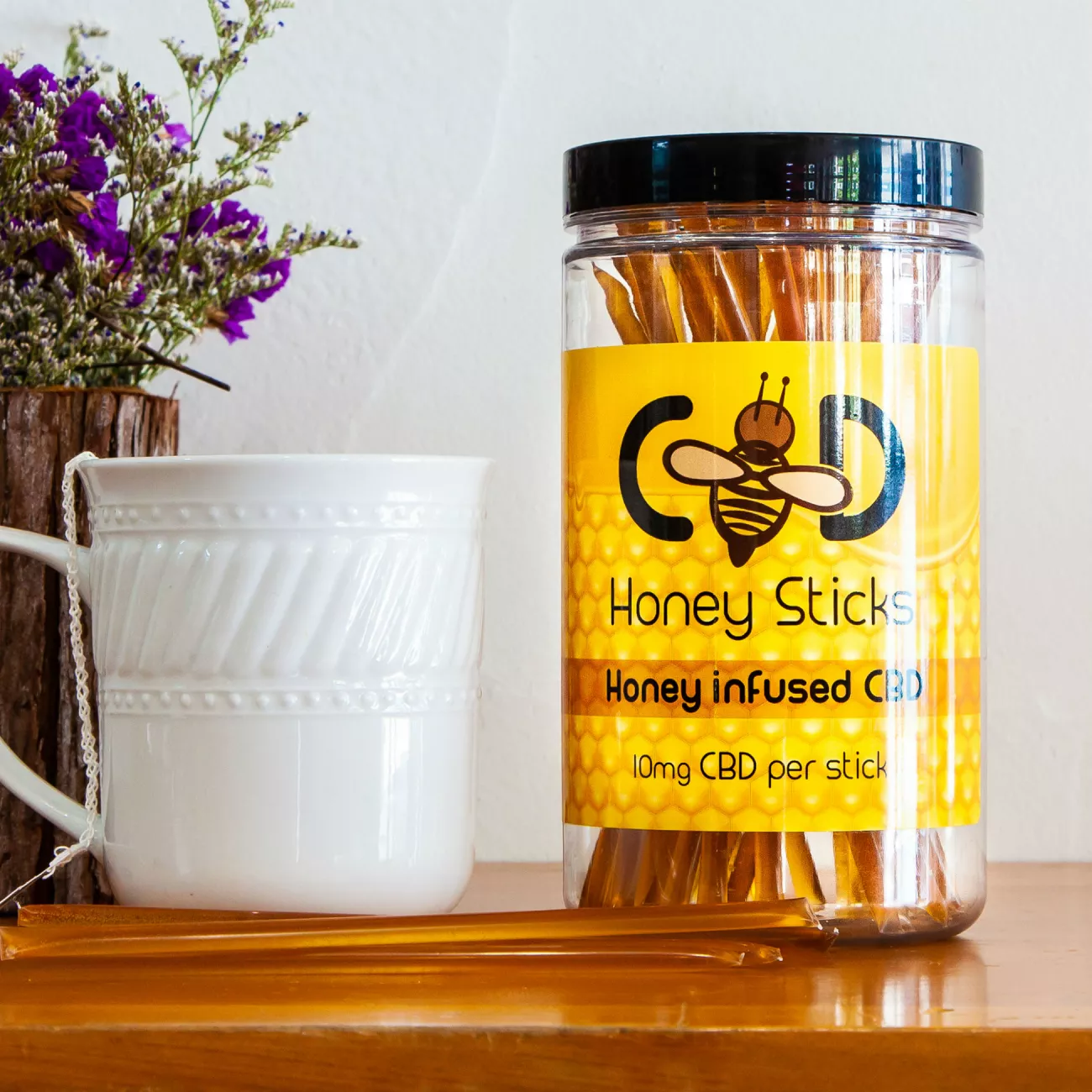 CBD Honey Sticks: The Ultimate CBD Edible
You can eat CBD Honey Sticks anywhere, and at any time, which is why they're the ultimate CBD edible. We've heard from customers who use them all sorts of different ways:
One of the easiest ways to enjoy CBD Honey Sticks is at breakfast, right in your morning coffee.
Add some sweetness to your day by stirring a CBD honey stick into your warm cup of tea.
Break the mold and spread it on top of a toasted muffin or bagel.
These are just a few of the ways that you've told us you use them, but really, the possibilities are endless.
Because Honey Makes Everything Feel Better
Of course, along with the all-natural benefits of CBD oil, our honey sticks have the soothing power of… well, honey. It's a great way to soothe a sore throat, especially after a long day of talking at the office. 
The best part about our CBD Honey Sticks is just how convenient they truly are, especially for those of you with busy lifestyles (and that means everyone). Whether your an on-the-go mom or a budding entrepreneur running from one meeting to the next, CBD Honey sticks easily fit in your pocket or purse (or fannypack — you know you still rock it every once in a while).
It means no carrying around a bottle of CBD oil and fumbling around with a dropper, which you should save for at home. And when you're out with a crowd, there's our bulk pack of CBD Honey Sticks —over 100 in each package!
CBD Honey Sticks Make Everything Taste Better
Cut the sugar and try our CBD honey sticks instead. Reducing the use of other sweeteners will cut down your daily caloric intake. Plus you'll enjoy all the potential added benefits of CBD oil at the same time.
(Oh, and don't forget our CBD Honey Pot too. It has all the sweetness of our Honey Sticks, with more honey!)