Presenting The Diamond CBD Yoga Series Relax Sessions
Posted on November 13, 2018
Filed under
Diamond CBD wants you to stay on your zen game this year by introducing our new CBD Yoga Series Relax Sessions from November 20th – December 8th in Miami, Florida! If you're a fan of yoga, CBD, or both, then this is your chance to bask in the ambience of pure relaxation, serenity, and calming tranquility.
CBD has become a booming industry in the last few years and those who use CBD oil, CBD creams, CBD extracts, CBD oil supplements, CBD edibles, etc. have taken great pleasure in the many health benefits that it offers. Promoting an overall sense of wellness for both the body and the mind, CBD doesn't have to stand on its own if you want to optimize your health.
The sky is the limit for you to be as healthy as you can be! So why not go above and beyond? Give yourself the gift of self improvement this year by joining us at our Yoga Series Relax Sessions and practice your Downward Dog position with an awesome new addition! See below for dates, locations, and times.
CBD YOGA SERIES RELAX SESSIONS
November 20, 2018
6:00 -7:00pm
Tropical Vinyasa Yoga - Gratitude Yoga in the Courtyard
1825 West Ave #9
Miami Beach, FL
November 26, 2018
7:00 pm
Modo Yoga
1935 West Ave.
Miami Beach, FL
December 2, 2018
6:45pm
OM Beats Studio
452 SW 8th St.
Miami Beach, FL
December 8, 2018
6-9pm
Dharma Studio
3170 Commodore Plaza
Coconut Grove, FL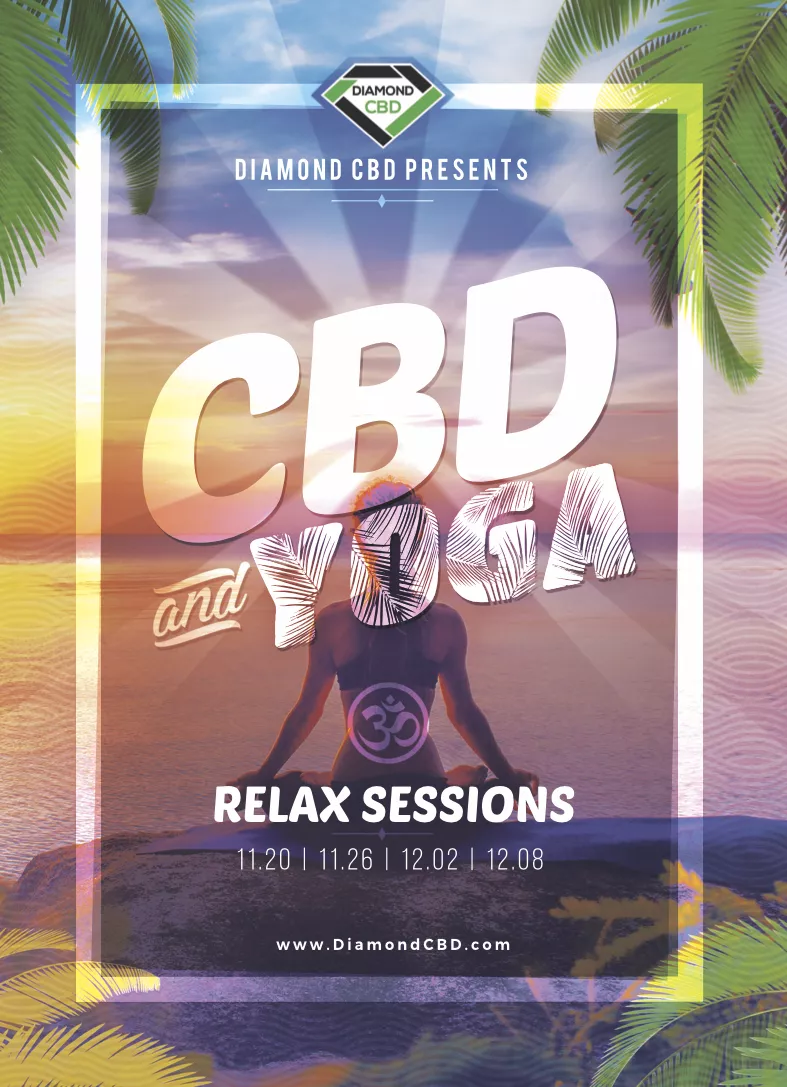 Diamond CBD is introducing their new CBD Yoga Series Relax Sessions where yoga lovers can come in and enjoy the full yoga experience infused with CBD fun.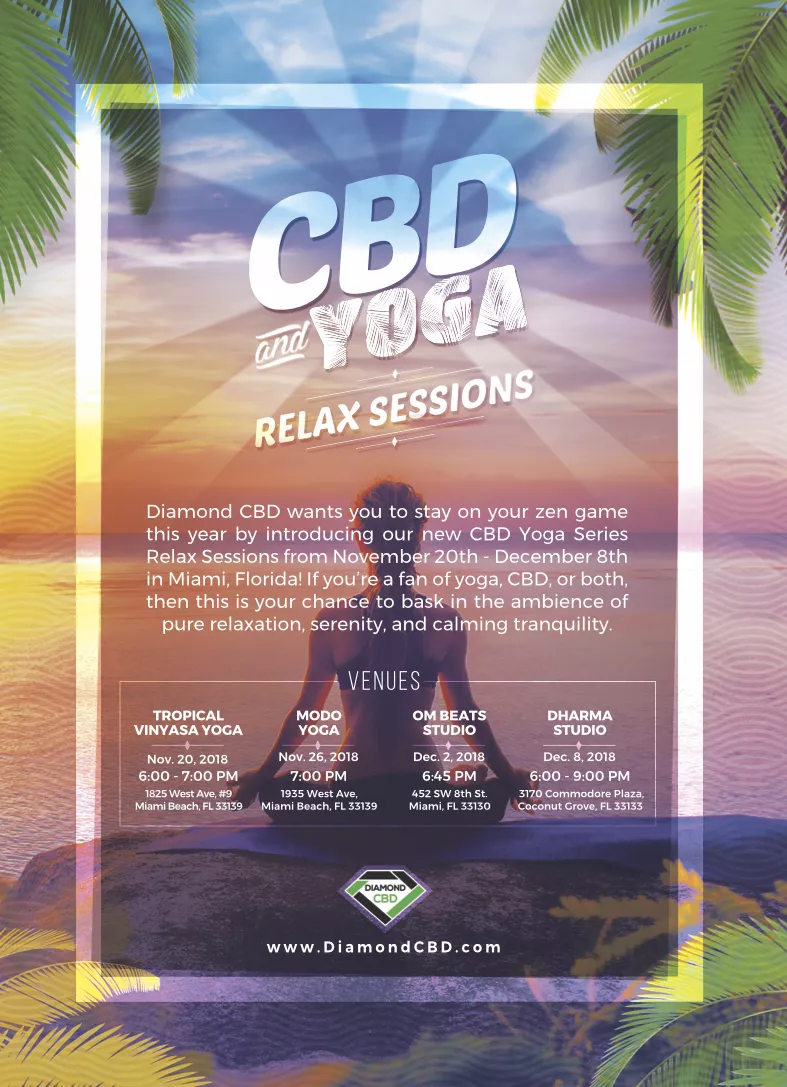 Come on down and experience the Diamond CBD Yoga Series Relax Sessions. Find a date that works for you and join in on all the yoga and CBD powered fun and excitement.
YOGA AND CBD – A BEAUTIFUL HARMONY
Those that are familiar with CBD oil and its benefits know that it can help tremendously to reduce stress, improve sleep, and is a great way to relax after a long day's work. Another great time to use CBD oil is after your workout regimen! Whether you've completed a strenuous, high-intensity workout, or finished your serene yoga meditation session, CBD oil is an awesome way to replenish your body.
The same way that CBD is used for means of relaxation and stress relief is the same exact way that people are using it after their exercise regimen. CBD has been proven to reduce inflammation and muscle spasms, which can become a result of overactive muscles due to exercise.
Most people don't realize the wonderful benefits of harmonizing yoga and cannabis. In India, which is the birthplace of yoga, the sacred status of the cannabis plant was celebrated for its integral healthful effects. Intertwined with antiquity and culture, yoga and cannabis may work together to revive the body, body, and spirit both before and after practicing yoga.
Yoga helps to guide us to our center, easing our stress and physical ailments through a series of breathing exercises, bodily stretches, and meditation. Promoting mindfulness and pure relaxation, yoga has helped billions of people from all around the world to become "one with the universe." Some could also say that they've achieved a greater sense of spirituality through the usage of CBD. Because of the wonderful benefits that CBD has in helping to ease stress, anxiety, depression, mental disorders, etc., it has become the new natural solution substituting many prescription drugs and remedies.   
CBD oil's naturally calming effects on the mind can help us to become more in-tuned and aware of our bodies so that we can strengthen our connection to our yoga practice. Yoga incorporates a lot of deep stretches, breathing techniques, and meditation. This form of exercise alone is a great way to ease one's mind and help them to enter into a soothing, meditative state. Adding CBD oil to the mix, whether it's taken before or after yoga, can only help in maintaining and even increasing these same calming effects.
By micro-dosing potent, non-psychoactive CBD topical cream to the skin before a yoga workout, you are aiding in the relief of muscle strains, spasms, inflammation, soreness, and most other exercise-related pain and injuries. CBD has been proven to be a mindful tool in numerous ways, especially relating to yoga and other meditative practices. Yoga instructors all over the world are jumping at this notion, in which they're utilizing CBD as both a pre- and post-practice physical and mental aid.
Very similar to the idea of people taking a Tylenol or other non-narcotic painkillers before and after a workout, CBD is a natural component that can be used to alleviate discomfort in the muscles, as well as to help prevent from enduring future pain as a result of exercise.
Athletic recovery is imperative to maintaining one's physical health. Muscular inflammation, spasms, sprains, etc. are experienced as a result of overworking the muscles or using muscles that are not normally used to a specific degree. For example, it's coming up to the New Year and you've written out your New Year's Resolution for the year of 2019. You wish to start losing weight and becoming healthier in both your body and your mind.
Well, exercise and diet will definitely help you to maintain and improve your overall health in both of these general areas, however, it certainly doesn't have to stop there. By incorporating the use of CBD oil to your everyday routine, you can drastically improve upon your bodily and mental health because of the amazing health benefits that CBD oil has.
MORE ABOUT CBD AND ITS HEALTH BENEFITS
CBD is the compound that is primarily extracted from the hemp plant, and exists within both agricultural hemp and medical cannabis. It is often used in the production of gummies, oils, extracts, supplements, and so much more. Although this agent does not create the "high" effect achieved by THC, CBD has many positive benefits associated with its use.
Some of the major health benefits of the use of CBD includes helping to alleviate:
Anxiety

Insomnia

Nausea

Seizures/Epilepsy

Physical Pain and Soreness

Migraines

Depression

Psychosis or Mental Disorders

Inflammation
And the list goes on and on…
Unlike THC, CBD does not contain psychoactive elements that create the "high" sensation that THC does for its users. Its usage is primarily for the benefit of one's wellness and health from a medical standpoint. By creating a harmonious balance between using CBD and practicing yoga, you could aid in improving your overall way of living. Staying cool, calm, and collected through all of every day's stressful situations is a goal that we try to accomplish on a daily basis. Sometimes, however, it may not be so easy. By practicing these healthy habits, you may just find that the same things that used to bother you or elevate your stress levels in the past just don't seem to phase you anymore. It's worth a try, right?