January 2, 2019
Diamond CBD Announces Winner of their Diamond Lifestyle Cruise Giveaway
Diamond CBD is proud to announce the winner of our Diamond Lifestyle Cruise Getaway Contest, a four-day world-class cruise to the Bahamas with all gratuities, taxes, fees, and port expenses included. And while we would love to give every one of you a prize, there can be only one winner.
Our lucky winner this time is Brandi Dawn Griffith, a woman who knows firsthand that Diamond CBD is not just a brand, it's a lifestyle that travels wherever you go. That lifestyle will soon be taking her and her husband on a getaway vacation of a lifetime. It's the perfect way to Chill and Relax —the Diamond CBD way.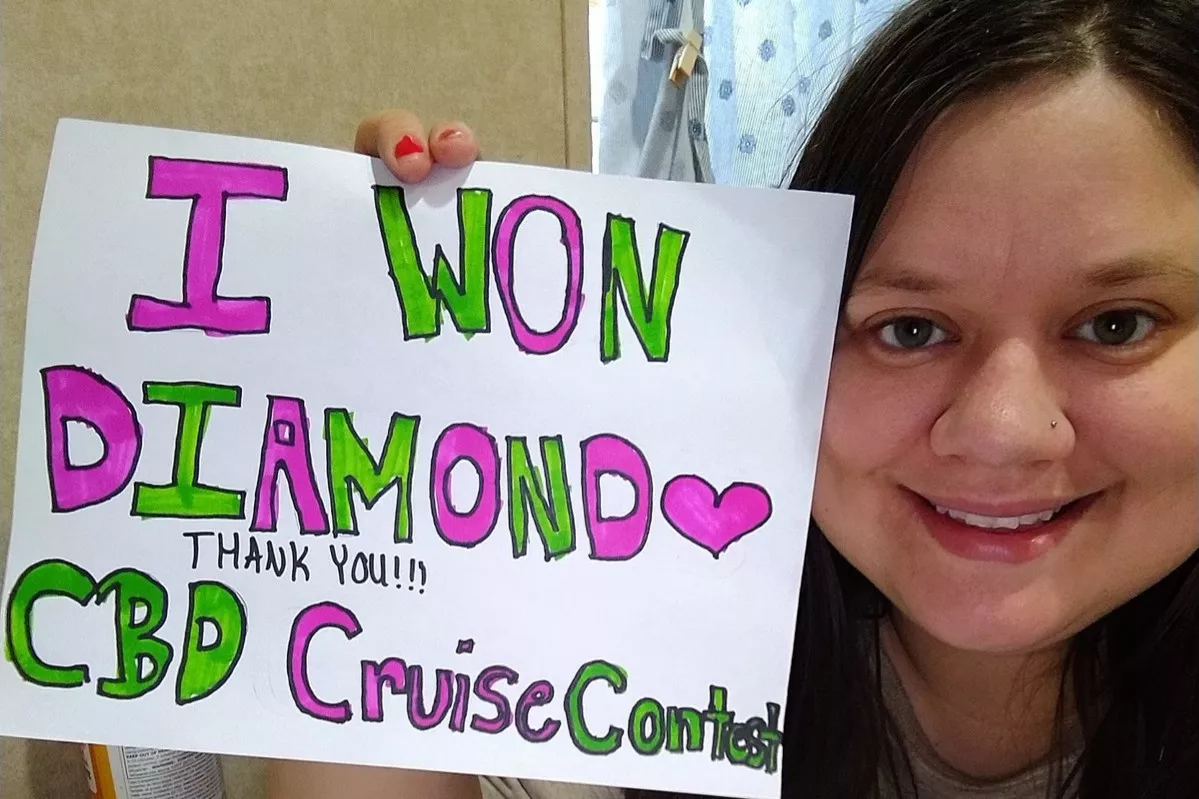 Congratulations to Brandi Dawn Griffith our Cruise Winner!
The Diamond CBD Lifestyle
The Diamond CBD Lifestyle is about more than just brand recognition. It's a way for consumers just like you to gain all of the benefits of 100 percent all-natural CBD, cultivated from soil-rich farms all across the globe. Whether you prefer to wake up with a cup of Chill CBD coffee or pop some Yum Yum Gummies, the Diamond CBD Lifestyle is a part of who you are.
In fact, we now offer a myriad of ways to incorporate CBD into your life, from our new flavors of CBD Honey Sticks to the classics like Chong's Choice vape pen and Diamond CBD Strawberry Flavored CBD Oil.
And, as always, the Diamond CBD Lifestyle is free from synthetics and illegal substances, a guarantee we make by having independent, third-party labs check every batch we sell.
What She Wins
Griffith, a steadfast consumer who knows the benefits of all-natural CBD products extracted from soil-rich hemp farms across the globe was the lucky winner among 2,864 entries for this four-day world-class cruise to the Bahamas. She'll enjoy an Ocean View Stateroom with beautiful views of the water. Moreover, she'll wake up each morning to the relaxing sounds of the sea as the sun shines through her port window.
And she'll do so in a grand-size Royal King bed, in a room with her own private bathroom.
In this hectic, fast-paced world, Diamond CBD is happy to give Brandi and her husband a chance to rest and relax. And for the rest of you who make our products a part of your daily routines, we hope we can help you to find ways to do that every day.
After all, as our CEO Kevin Hagen said: "Everyone deserves the ease, pampering and detailed attention that often comes along with being on a cruise. As our consumers strive to be the best people that they can be, we are more than willing to go the extra mile to ensure that their work is rewarded and made a little easier."
The CBD Lifestyle in The Bahamas
Griffith and her husband will enjoy relaxing sounds, intimate memories, and cool Caribbean breezes as they sail to Paradise Island Atlantis Resort. They'll capture the Instagram-worthy, pastel-colored buildings of the waterfront capital of Nassau and explore the spectacular waterfalls and botanical gardens of Grand Bahama Island. If they want a more active itinerary, they can take part in everything from an intergalactic glow-in-the-dark laser battle to a virtual bungee trampoline.
Whether they're waking up each morning in a grand-size Royal bed, soaking up the sun on a beachside hammock or enjoying the splashes at the waterpark, the couple will have plenty of chances to leave it all behind — at least for a couple of days. She'll be enjoying the Diamond CBD lifestyle, one embodied in bands such as Chill Gummies and Relax Vape oil.
"It'll be amazing to get a vacation," said an appreciative Griffith. "I haven't had one in years. And it'll be the first cruise ever!! Y'all are amazing!!!"