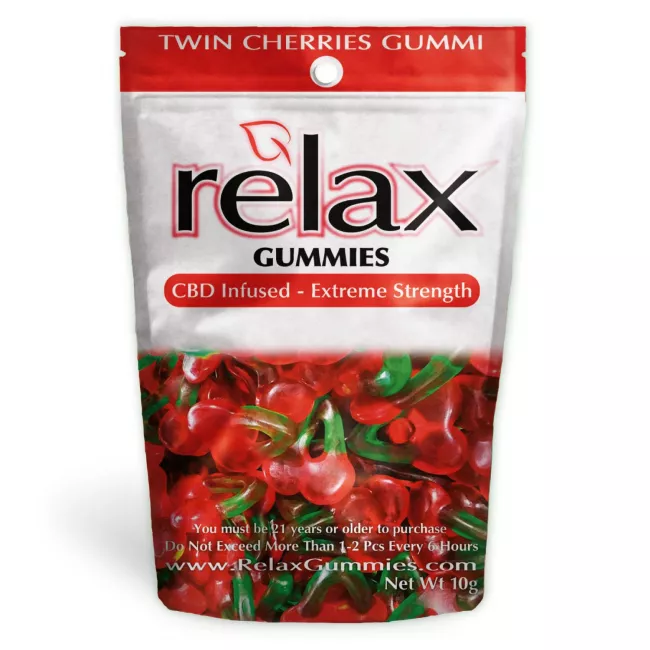 Relax Gummies - CBD Infused Twin Cherries [Edible Candy]
---
---
Samantha Z. on April 4, 2018
They really helped me get to sleep. Would take one gummy ~30 minutes prior to going to bed, made a huge difference in my sleep habits.
Angela R. on April 4, 2018
I have bought a few times, love them
Rena s. on April 3, 2018
I bought them for my migraines. They definitely helped
Peter V. on April 3, 2018
Mellow is the word that comes to mind when describing the feeling after having a Relax Gummie or two.
Michael G. on April 3, 2018
I appreciate the fact that the items I purchased were shipped immediately and I received them in a timely manner. I also enjoyed the product and would purchase again very high quality
Adam C. on March 27, 2018
The cherries are overall are pretty good. The only issue I have with them is the initial flavor. At first, the flavor is very much so a heavily chemical taste. You have to chew for a minute or so and then it is a pleasant cherry flavor. I have tried many of the products on this site and many have a far better flavor than the cherries. If they could fix the initial chemical taste they would be perfect, because they work great to help with sleeping.
phyllisfrith@a… on March 17, 2018
fkgato on March 13, 2018
Great product customer service
lazerchicky on March 13, 2018
I got the product as a sort of treat to myself to ease the insomnia and anxiety after I had read about the site from another blog. I'm happy with the results I've had and will continue to order and try other products.
Denny C. on March 13, 2018
After trying a number of sleep meds,nothing would help my wife sleep. Tried outtge gummies,noq she is hooked. Gets to sleep fast and stays asleep all night. She is hooked
BERNICE W. on December 16, 2017
Carla B. on December 15, 2017
I had just tried products before putting them in my store. I was going to use them to help me sleep worked great! But to my amazement I ran out for 2 weeks. I didn't realize the pain relief it was giving my neck.
Lori L. on December 15, 2017
love your product and the cherries gummies are wonderful,