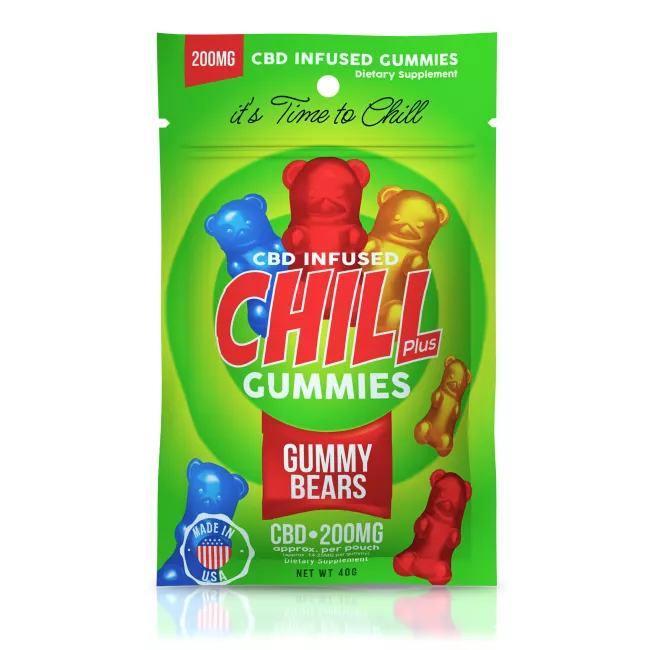 Chill Plus Gummies - CBD Infused Gummy Bears - 200mg
---
---
Paige. on March 28, 2018
So I've always struggle with anxiety and depression since I was young. I also recently found out I have PCOS so I'm in constant pain all the time and it's added to my depression since it makes it 100x harder to become pregnant, and some of the other symptoms make me feel down about myself as well. I hate the medication I was on, it just made me feel like a walking zombie and all I did was sleep my life away. Then, one of our friends recommend that we try a CBD product because it works for their pain and their depression. I was a little skeptical, but I just sucked it up and ordered a couple bags of these gummies and let me tell you I'm GLAD I did. After about ten minutes I felt it kick in and instantly felt the switch in my brain go off. Everything was quiet and my pain was pretty much non existent. I'm able to fall right to sleep without having a million thins run threw my mind. I'd recommend these to anyone! I love them and I'm glad I found them!
Lisa P. on March 25, 2018
I suffer from lower & upper back pain, sciatica & peripheral neuropathy of the feet and these gummies really take the edge off of my pain and relax me. I am now able to get some sleep without having to take muscle relaxers or other pills. Plus, these gummies taste so good. I get the best delivery when I suck or bite the gummies into small pieces then swallow. Thank you for providing a quality product that works. I highly recommend.
Carol O. on March 15, 2018
I love these Chill Plus Gummies! They make me so relaxed. Will order them again!
Edward H. on March 13, 2018
Work great for relaxing better than meds
Brandy. on March 13, 2018
These are amazing and I will def be ordering them again.
Amy C. on February 9, 2018
These are such a great help with the management of back pain and my migraines.
Robin H. on February 8, 2018
Excellent- provided much needed relaxation and helped put me to sleep.
Kendra C. on February 7, 2018
Always happy with quality
Meta W. on February 7, 2018
Great and eliminates pain
David G. on February 7, 2018
The products were so great I decided to invest in the company
John B. on February 7, 2018
You can feel it about 15 minutes after a couple. Very soothing
THOMAS T. on December 31, 2017
ok, i have alot of money invested in your Co.
Jackie G. on December 26, 2017
I would definitely say Diamond CBD makes the best edibles around. They work and help with my chronic pain and insomnia caused by it where other brands do nothing for me. Love the constant discounts u get for signing up and being a member. I guess u could say I have I have a shopping addiction, but w everyday use, such great deals and prices, new items arriving all the time, and such a wide variety of products to choose from I have come back to this site several times and will continue to in the future! Nobody beats my 1 resource when shopping for CBD like Diamond CBD and I would recommend this to CBD users at any level in the game!
Kendra C. on December 26, 2017
Before party's I take 2 and feel no anxiety love them thanks
Patrick B. on December 26, 2017
I've placed several orders from your company and I received my orders on time. Only the first I had a issue but it was the USPS and they are horrific. The gummies take the edge off and that is what I need.
Greg K. on December 16, 2017
Super chilled out, helps me sleep and kills my anxiety
Sean M. on December 15, 2017
Great tasting and stronger very relaxing
Patricia T. on December 15, 2017
its great! I have already reordered!
Shannon R. on December 15, 2017
The gummies were actually purchased for my elderly mom, who has fibromyalgia and rheumatoid arthritis. So far, so good! Will definitely purchase again!
Mark E. on November 8, 2017
I was really surprised at what little the product had on me. For the first couple of times I followed your recommendations of 1-2 per 4-6 hours. No effect what so ever. I ended up taking between 6-10 to get any sort of reaction. As the packs do not contain a great deal of product, they disappeared rather quickly. Am I doing something wrong here