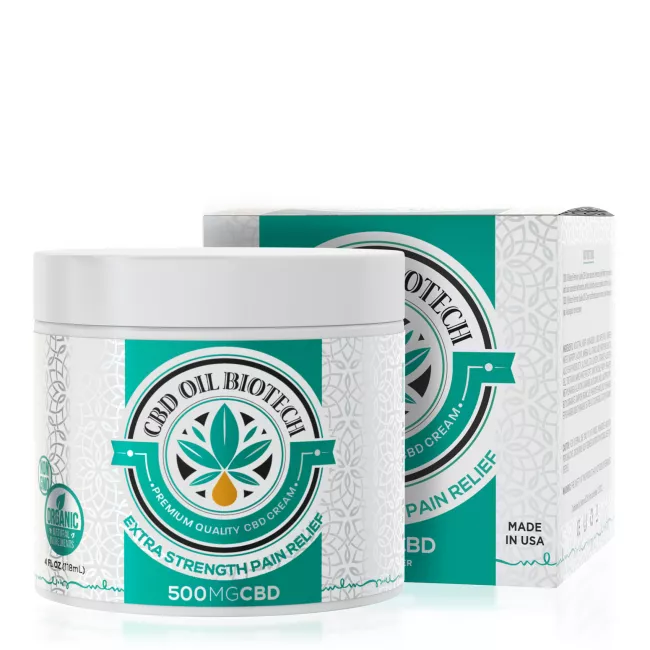 Biotech CBD Cream - 500mg
CBD Oil Biotech CBD Cream 500mg is the ultimate CBD cream for athletes. This concentrated, CBD oil lotion has menthol and natural CBD infused hemp oil (sourced from industrial hemp).Rub CBD Oil …
more
Other Variations
---
Questions & Answers
Do you use synthetics or THC in your products?
Our focus is to research and develop innovative natural CBD extracts with no synthetics or THC. We pride ourselves in producing the finest and purest CBD oils while never compromising quality. Check out our About Page for more information. Our CBD is constantly tested to ensure quality. We list all our ingredients on our website as well as on each package. We also have lab reports for many of our products available online.
Customer Reviews
Colbert H. on April 9, 2019
It has worked great on joints and musels
Lori J. on April 8, 2019
I like this cream for minor arthritis aches. My dad swears by it.
Karl M. on April 8, 2019
Great quality. Seems to help minimize my finger joint pains from playing guitar too long and lifting golf cart batteries.
Manuel E. on April 8, 2019
Love it, tried the 250 mgs and the 500 is even better, pain relief from arthritis is immediate. Great product, have told many of my friends with similar ailments and they agree once they try it.
Deborah B. on April 8, 2019
Because of autoimmune issues I'm limited as to what I can take but 𝐂𝐁𝐃 has been fantastic. I have used three other brands of creams or lotions but have found this to work the best! It's smell is pleasant and was very effective on my ankle, knee and shoulder. It would also be good as a roll on for ease of use and travel ability