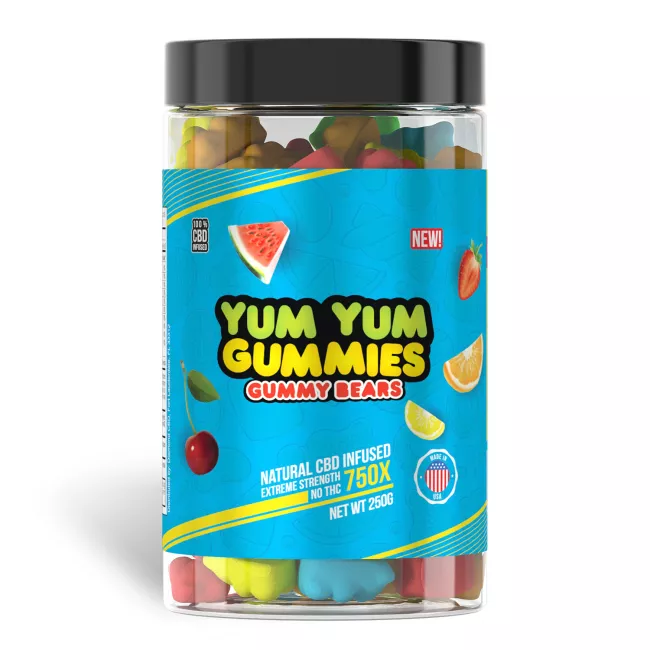 Yum Yum Gummies 750x - CBD Infused Gummy Bears
---
---
Kristin S. on January 17, 2019
I love the YumYum Gummies!!! I will buy more. This will be my go to place.
Dan C. on January 3, 2019
Good, like them even though I hate regular Gummy Bears.
Melissa S. on December 27, 2018
Excellent product that tastes great and really helps
Victoria R. on December 26, 2018
Love it! Really helps with my anxiety and panic attacks
Chris R. on December 18, 2018
Very tasty..helps with my axienty a lot ..i dont have to take my meds as much because these help ..i will continue to purchase cbd products..thanks
Angela J. on December 12, 2018
The gummies have worked excellent for my anxiety issues. The taste is great (no aftertaste) compared with other gummies that I have purchased from other vendors. I am extremely satisfied!
Jerry a B. on December 11, 2018
Excellent product. I won't buy from anyone else.
Kevin H. on December 3, 2018
I made 2 purchases received the first but the 2nd didn't arrive and was shipped back to Diamond CBD. When I spoke to CS they made me research the UPS number. I sent a message back, as yet no response from CS Lexxii that the gummies were returned to Diamond.
I'm very disappointed with the service I've not received, the product works well and am very satisfied.
Brandi I. on November 5, 2018
I love them and use them several times daily 😊👍
Walter R. on November 2, 2018
Perfect! The larger jar (ie. more Gummies) is great and at 750mg I can add or subtract depending on my needs. Since I'm on the west coast, the larger size means less waiting. Thank you.

Walterb
Pamela D. on October 1, 2018
It has been a fantastic help with anxiety.
Cheryl H. on September 26, 2018
YUM YUM is right! Stress and tension melts away!
Rakisha S. on September 25, 2018
This product helps me relax tremendously. I only need 1-2 gummies daily. Very satisfied with this product.