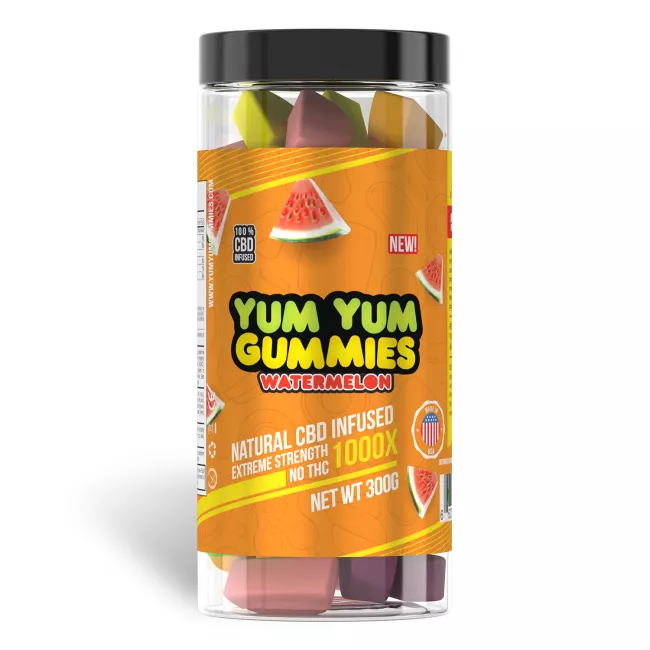 Yum Yum Gummies 1000x - CBD Infused Watermelon Slices
---
Products of the Same Brand
Frequently Bought Together
---
Terry M. on January 3, 2019
I recently used this product for a terrible cat bite. It actually reduced swelling in pain! Thank you!!
Diana B. on December 23, 2018
Sandra S. on December 16, 2018
Diana B. on November 20, 2018
Cheryl H. on November 18, 2018
I'm so happy with these! Great taste. Works amazing on my pain and anxiety. Works for me to relax and enjoy a great night sleep.
Peggy W. on November 6, 2018
Love them! Easy to take and they help me deal with pain that I've had for years from back surgery and other issues! I'll be getting them on a regular basis now.
Michelle K. on November 5, 2018
This is by far my favorite product so far, but I look forward to trying new items.
Christine A. on October 14, 2018
I gave my mom some and my father bought two from me because it made her soooooo nice lol
Nico D. on October 6, 2018
Love these! will definitely be buying these again!
Kimberly R. on October 5, 2018
Terry M. on September 30, 2018
Michelle K. on September 18, 2018
These have a slightly different texture than the other gummies which through me off at first. This is my favorite flavor though by far. No chemical taste. I will be ordering more of these.
Raymond B. on September 12, 2018
The gummies work ok, need to take a few to help. The shipping time varies from 3 days to a week and a half. That's why a 4 star rating.
Peggy W. on September 10, 2018
Wonderful and easy to use.

Kimberly R. on September 2, 2018
Love this product they taste good and it's another alternative to ingest CBD
Raymond B. on September 2, 2018
I have a crushed spinal cord, earned it from being a firefighter. 911 didn't help. This product helps me with the pain associated with the atrophy of my legs. If I don't use them I will lose them (legs). I take about 20 to get a little relief. All gave some, some gave all. Thank you for the quick turnaround on my orders. FFRMB, (Ray)
Raymond B. on August 29, 2018
These gummies work for me, it takes a few but it helps with pain.
David L. on August 21, 2018
Great product and it does help you sleep well.