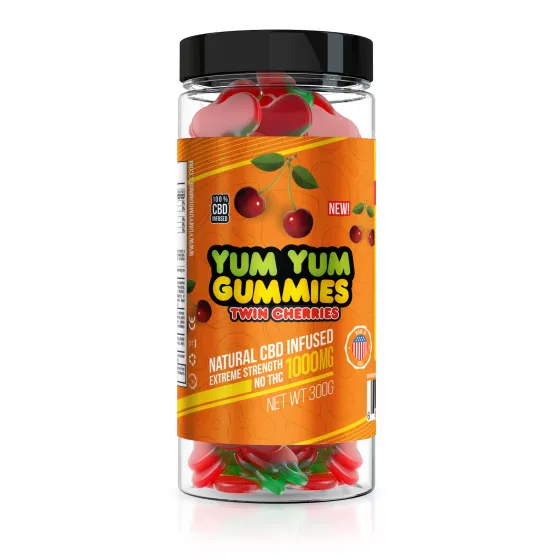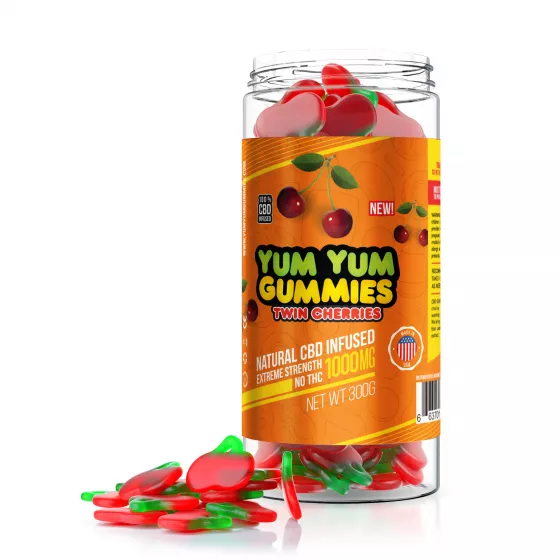 Yum Yum Gummies 1000mg - CBD Infused Twin Cherries
Yum Yum Gummies 1000x CBD Infused Twin Cherries use natural CBD hemp extract and deliver yummy CBD gummy taste. CBD Gummies are the #1 CBD choice for many people wanting to take CBD oil (cannabidiol) … Read more
Key Facts
With 1000mg of CBD Isolate
Yum Yum Gummies 1000x CBD Infused Twin Cherries use natural CBD hemp extract and deliver yummy CBD gummy taste. CBD Gummies are the #1 CBD choice for many people wanting to take CBD oil (cannabidiol).
CBD gummies, a.k.a. CBD oil gummies or cannabidiol gummies, are chewy edible CBD-infused candies manufactured from industrial hemp plants. Take Yum Yum Gummies 1000x CBD Infused Twin Cherries and experience the delicious benefits of CBD oil.
Recommended use: take 1-6 gummies Daily as needed.
Corn Syrup, Sugar, Gelatin, Dextrose, Citric Acid, Corn Starch, Artificial & Natural Flavors, Palm Kernel Oil, Carnauba Wax. White Beeswax. Yellow Beeswax, Yellow 5, Red 40, Blue 1, Proprietary Blend and CBD. 
Aria C. on September 5, 2020
They taste great, and they're very powerful. I am as relaxed as I want to be, thanks to these!
Julie D. on May 5, 2020
Yum yum gummies are the best value for my money. I Love Diamond products.
Penny B. on February 4, 2020
Excellent product!! I have migraines and they really do help me!
Mike e. T. on December 23, 2019
these taste so good hard to put them down. The medical side always reminds me. They Work
Michelle L. on December 8, 2019
Nothing at Diamond ever disappoints. These gummies have great flavor and no after taste. Highly recommend!!!