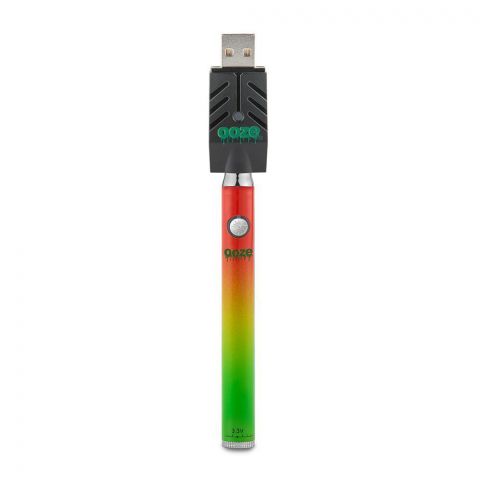 Sold out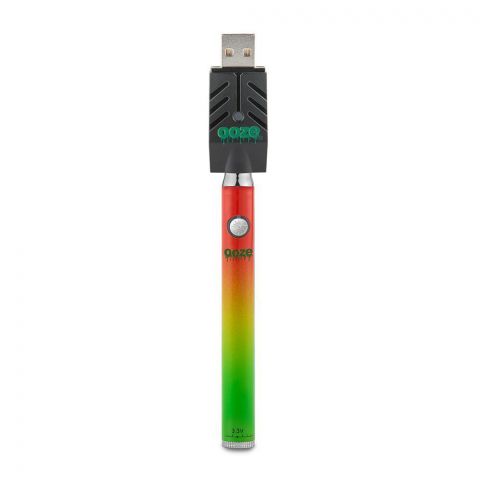 Slim Pen Twist Battery + Smart USB - Rasta
Product Info
The Ooze Rasta Slim Twist Vaporizer Battery is a discreet and powerful vape pen battery that is compatible with virtually all pre-filled oil, extract, essential oil, and delta 8 cartridges. The red, yellow and green finish is vibrant and colorful; an Ooze pen is the perfect finishing touch to any outfit.
The Slim Twist Pen features a dial on the bottom that twists to select a precise voltage between 3.3-4.8V. Press the button down to take a hit, and the battery will shut off after 15 seconds of inhaling to protect against overheating. Activate preheat mode by clicking the button twice and the battery will heat for 15 seconds without needing to press the button down.
This is a 320 mAh device that includes an Ooze smart USB charger with built-in overcharge protection. The charger automatically shuts off as soon as the battery reaches a full charge, greatly extending the overall life of the battery.
We recommend only charging your battery for 1-2 hours.
FEATURES
Ooze 320 mAh Battery
Vibrant Rasta finish
Preheat mode
Adjustable Voltage: 3.3V - 4.8V
15 Seconds Hold Time
Fits all 510 Thread 
USB Smart Charger
Smart USB Rapid Charge 
Auto Safety Shut off 
Preserves Battery Cells 
Frequently Asked Questions
How do I use my 5To vape pen?
Once your battery is charged fully and you find a desirable temperature, you are ready to use your new pen. To use it, press down on the button and hold it while you inhale.
What is the 5To batterys operating charging temperature?
Your batteries should always be used at the following temperatures:32 to 113-degrees Fahrenheit Discharge: 32 to 140-degree FahrenheitLet the batteries cool down to an ambient temperature before charging. During discharge and handling of batteries, do not exceed 160-degree Fahrenheit.
How do I turn off my 5To vape pen when I am done?
To turn off your vape pen, press the button 5 times until you see the blinking light again.
Is shipping different for vapes than for everything else?
Starting in April 2021, we began shipping vape products via USPS due to new federal laws concerning vaping products. Effective April 5, 2021, UPS will not transport vaping products to, from or within the United States due to the increased complexity to ship those products, we wrote in a recent blog. You can read more here.
What is the PACT Act?
The PACT Act is a new law passed by the federal government that places additional requirements on the shipping of vape and tobacco products. Diamond CBD is in full compliance with all state and federal laws.