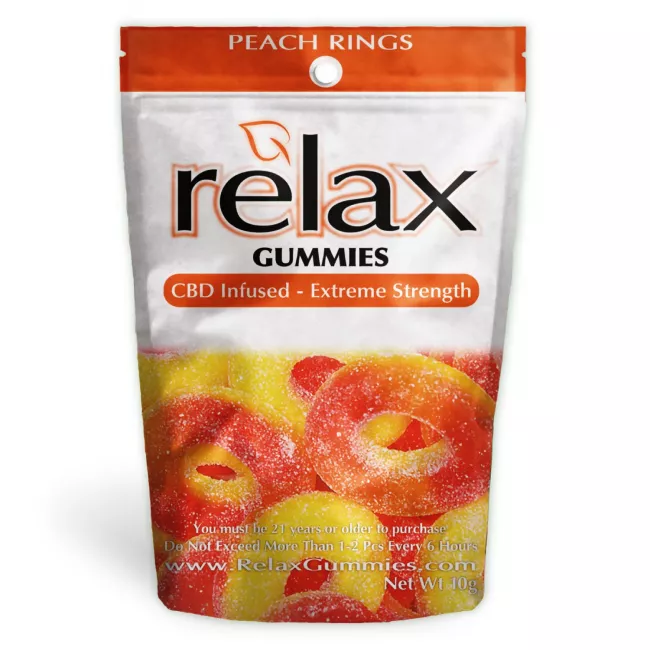 Relax Gummies - CBD Infused Peach Rings [Edible Candy]
---
Products of the Same Brand
Frequently Bought Together
---
Stacie L. on December 16, 2017
5 Stars !! This is the second time I have purchased this item and they have been excellent both times !
Stacie L. on December 22, 2017
Love the taste and love how they make me relax ! These are excellent !!!
Beau B. on February 7, 2018
Taste Great and Work Well
Beau B. on February 7, 2018
Taste Great and Work Well
christine b. on February 7, 2018
I have a chronic form of Luekemia and I use CBD oil to alleviate autoimmune pain associated with taking an antibody drug. I enjoyed trying a variety of Gummies from your site. The strength of the peach rings was good, but the cannabus taste was strong so it didn't taste much like peach. The watermelon gummies I tried had the best taste.
Jackie G. on February 18, 2018
These taste great and are highly recommended!
Phillip R. on March 12, 2018
They are delicious and I am definitely going to buy them again
Lisa T. on March 13, 2018
This was the first time I have tried cbd infused gummies and I would recommend them! They really tasted like actually peach rings! Now I want to try the watermelon ones!!
Nicolle S. on March 14, 2018
this did the same thing as eating 2 watermelon gummies, but you only got four in a package. kinda wish you could buy bigger packages
Antonio B. on March 16, 2018
Teresa S. on April 3, 2018
I could not eat them whole. Had to break them up into fourths but they did relax me very well. I slept well. My anxiety level went down. Definitely one I will get again!
Ginger M. on April 4, 2018
I use these to help me sleep at night or when I'm stressed and they work wonders. I put an order in for these usually every three weeks, they are so worth it.
Melissa P. on April 5, 2018
All CBD gummies I've tried have a bitterness to them at first so once you get past that, these are delicious and effective. I've been using them before bed to have a sound sleep and have not been disappointed so far.