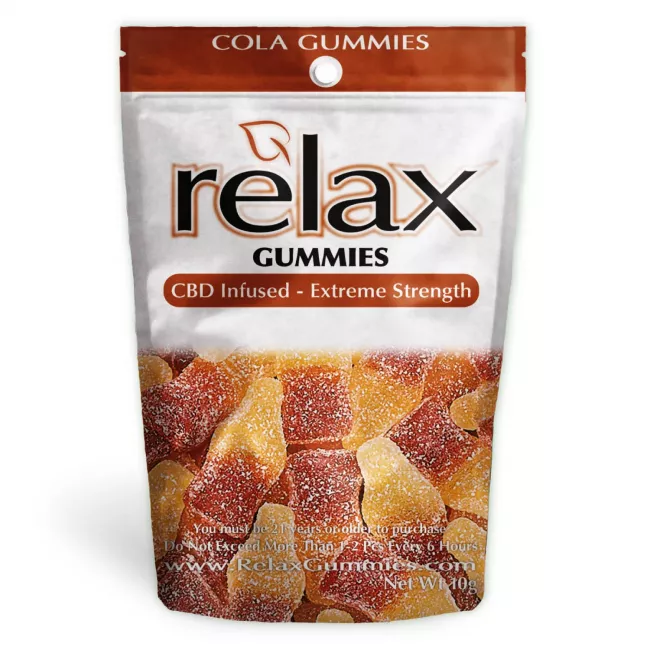 Relax Gummies - CBD Infused Cola Flavor [Edible Candy]
---
Products of the Same Brand
Frequently Bought Together
---
David H. on October 7, 2018
Pj G. on October 1, 2018
needs a little more cola flavor, but pretty good.
Richie B. on September 24, 2018
Good stuff. Helped with my knee and back pain and helped me relax for a sound sleep.
Renee C. on September 22, 2018
Works well relaxes you.so you aren't so stressed
Regina N. on September 21, 2018
Love your products. Bought several items at different times.
My only concern is the 20 days it takes to recieve it.
Alison W. on September 14, 2018
They're kind of bitter at first but they taste pretty good when you get used to it. I eat one when I'm going to bed and it does help me stay asleep. I'm otherwise waking up every couple of hours. There were 10 gummies in the package I got.
Leah W. on September 10, 2018
These are the best ones my favorite love love them wish they came in a bigger bag
Lisa B. on September 2, 2018
These have a nice taste......a little difficult to cut, as I usually only take 1/4 to 1/2 of one at a time. The CBD definitely helps with sleep. We've purchased several varieties of the RELAX gummies, and they're all tasty.
Mary N. on August 27, 2018
These are awesome flavored

Valerie S. on August 22, 2018
Absolutely life changing for me! At times I suffer from social anxiety and now, I no longer worry about it. I just eat one gummy about an hour before I go out and it takes the edge off so pleasantly! Thank you Diamond CBD! With my cola gummies in my purse, I have no fear!
Tripp S. on August 21, 2018
Leah W. on August 21, 2018
These are my all time favs out of all the gummies love love them they are so true to taste even though packaging makes u think they are sugar coated they are the best
Janel K. on August 21, 2018
Pop one of these and kiss insomnia goodbye 💋
Angela K. on August 21, 2018
I keep these in my purse so I have them close when I need a little stress relief on the go
Sonya H. on April 4, 2018
This product was PERFECT for relaxing. I'm a chronic insomniac, one before bed led to a restful night's sleep.
Joe D. on April 4, 2018
Very good. I would but again.
Jenna S. on March 12, 2018
THESE TASTE GREAT AND ARE SO GOOD. WORK GREAT TOO
Antione L. on February 15, 2018
I buy these CBD gummies mainly for my wife cause she has anxiety and back problems. Occasionally I'll try them here and there, my job does random and I don't like to chance it too often. She's tried alot of different gummies and she really liked the cola flavor in these. When she wants this one again I shall buy more for sure.
Lorna B. on December 15, 2017
These are great! They are decent tasting and they do make me sleepy and relaxed. I'd buy them again.