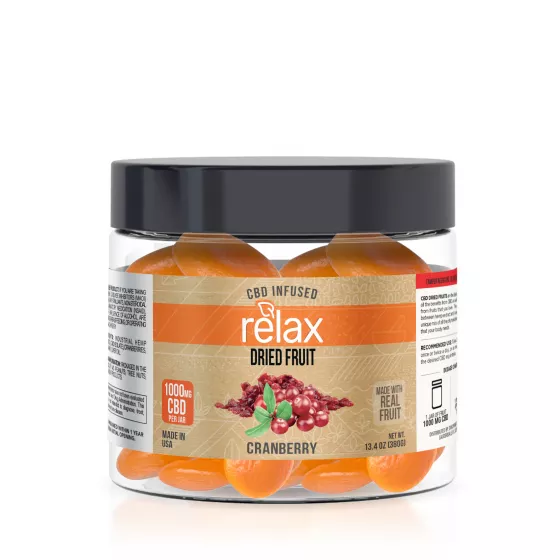 Relax CBD Dried Fruit - Apricots - 1000mg
With Relax CBD Dried Fruit - Apricots - 1000mg, get all the benefits of CBD isolate with the delicious flavor and protective antioxidants that you love from cranberries. The perfect balance … Read more
Key Facts
With 1000mg of CBD Isolate
With Relax CBD Dried Fruit - Apricots - 1000mg, get all the benefits of CBD isolate with the delicious flavor and protective antioxidants that you love from cranberries. 
The perfect balance between hemp extract and real dried fruit, Relax CBD Dried Fruits have a unique mix of all the phytonutrients and vitamins that your body needs and your taste buds crave. 
Enjoy this CBD-infused apricot treat as a stand-alone snack  or with your favorite foods.    
Industrial Hemp Cannabidiol (CBD Isolate), Apricot ( % 99,98), S02 (% 0,02 - E220).
Michael J. on September 11, 2020
Carrie F. on September 2, 2020
Sharon W. on June 9, 2020
They are usually fabulous but my last order was full of hard ones. They still were effective though. I'll still buy them again.
Amity G. on June 7, 2020
These taste just like any regular dried apricot with no CBD aftertaste. I eat one at night to relax and it does the trick.
Pamela V. on April 22, 2020
I bought these to help me relax before laying down for bed. They work awesomely. I quit drinking alcohol and the cbd works wonders. It also helps take away pains and aches from my work day