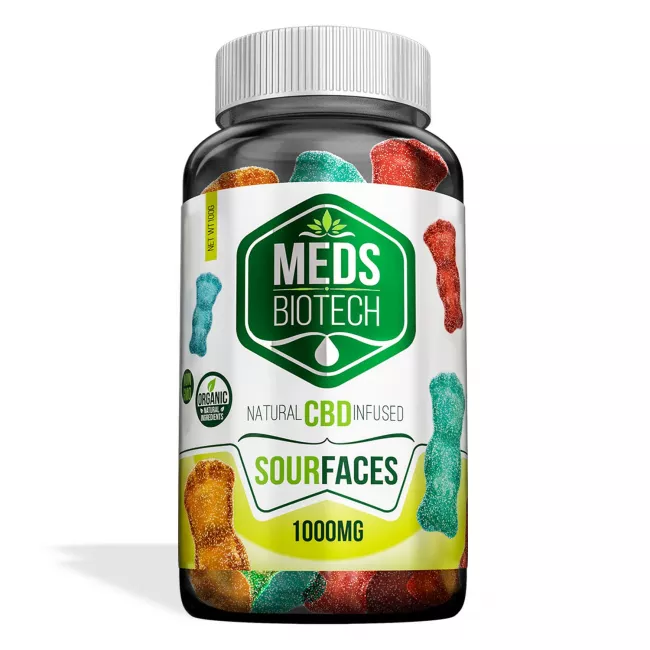 Meds Biotech Gummies - CBD Infused Sour Faces [Edible Candy]
---
Products of the Same Brand
Frequently Bought Together
---
Juan A. on March 12, 2018
I started with the Chill gummies but found these to be more potent. They are definitely worth the price since you get more along with a dosage increase.
Robert F. on March 13, 2018
This product is exactly as described, i have tried many brands, these are high quality.
Jennifer M. on March 20, 2018
Gummies - Sour Faces = happy face for all!
Gerald R. on April 3, 2018
I'm very pleased that you have gone back to the packages and stopped the bottles. The bottles were rally a big mess. Thanks
George C. on April 3, 2018
Definitely recommend this product if you need help calming your nerves or sleeping at night.
John S. on April 4, 2018
I tried a number of Diamond CBD items and have never been disappointed
Julie E. on April 4, 2018
These things are great for helping me to relax after a hectic work day. I have also found that if I wake in the middle of the night and have trouble falling back to sleep these help me return to sweet slumber.
astullahoma on April 5, 2018
This product made a difference in my nightly routine! I sleep better and I'm more relaxed.
Tina R. on April 5, 2018
Very good it has been helping me very well and i get them fast