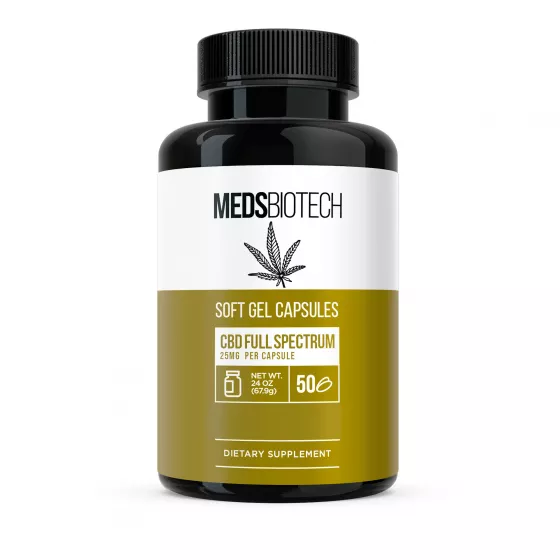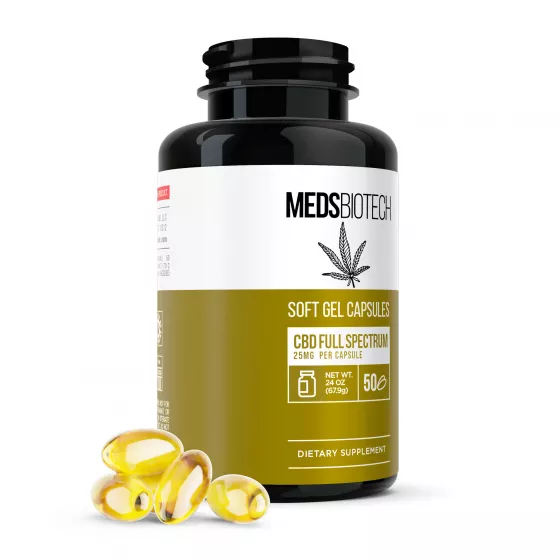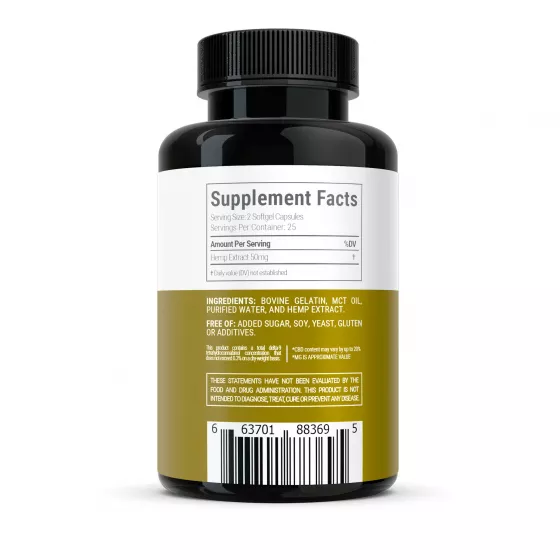 Meds Biotech Full Spectrum Soft Gel Capsules - 1250mg
Meds Biotech pharmacist-formulated CBD introduces full spectrum CBD soft gel capsules, a quick and convenient way to experience the benefits of all-natural hemp-derived CBD at home, at work, or on-the … Read more
Key Facts
With 1250mg of Full Spectrum CBD
Meds Biotech pharmacist-formulated CBD introduces full spectrum CBD soft gel capsules, a quick and convenient way to experience the benefits of all-natural hemp-derived CBD at home, at work, or on-the-go. Packed with 25mg of CBD per capsule, and 50 capsules per bottle, these sugar-free, gluten-free, organically-grown soft gels offer you a pre-measured amount of CBD in each capsule to make dosing easy. Meds Biotech Full Spectrum CBD Soft Gel Capsules provide you with the daily support you need in a hassle-free soft gel made to match your lifestyle.
Like all of our full spectrum CBD products, Meds Biotech Full Spectrum CBD Soft Gels are cultivated specifically to embrace the myriad of compounds found in the hemp plant. These pharmacist-formulated capsules provide your routine a boost with an enriching blend of terpenes and cannabinoids meant to work in tandem with each other. We grow our full spectrum CBD with you in mind.
Meds Biotech Full Spectrum CBD Soft Gels are lab tested and follow our rigorous safety and approval guidelines. We recommend two capsules per serving for the full CBD experience.
Bovine Gelatin, MCT Oil, Purified Water, and Hemp Extract.
Helen S. on October 17, 2020
The CBD capsules are easy to swallow and effective. If your go to are capsules, you will be pleased with this product.
Debra H. on October 13, 2020
Debra H. on September 28, 2020
These are fantastic! Keeps me free of pain and
awake so I can enjoy the day. ❤️ Them
Dave R. on September 22, 2020
Marian W. on September 14, 2020
I like taking the gels with the gummies, one giving a quicker effect, and the other kicking in a bit later. Great combination go get me thru a good night's sleep!