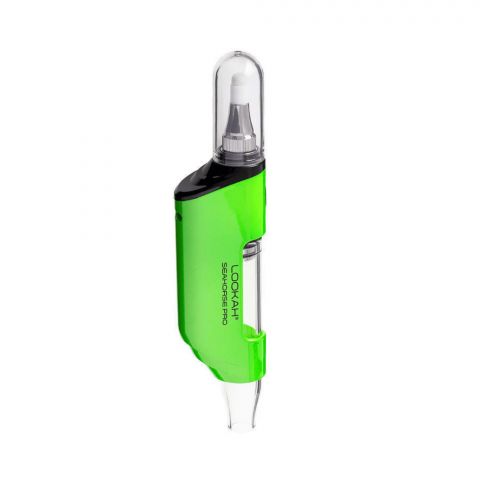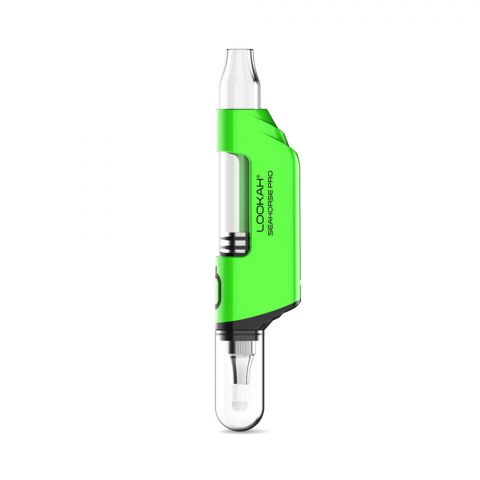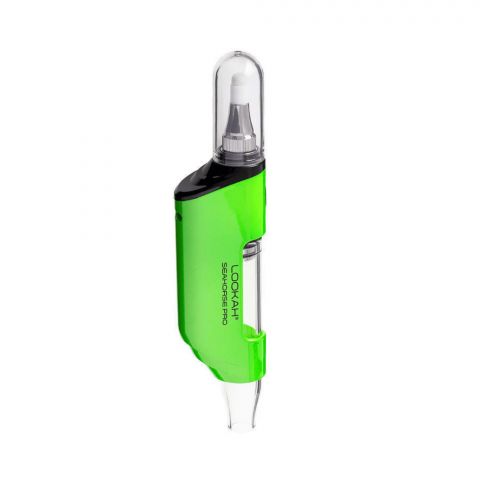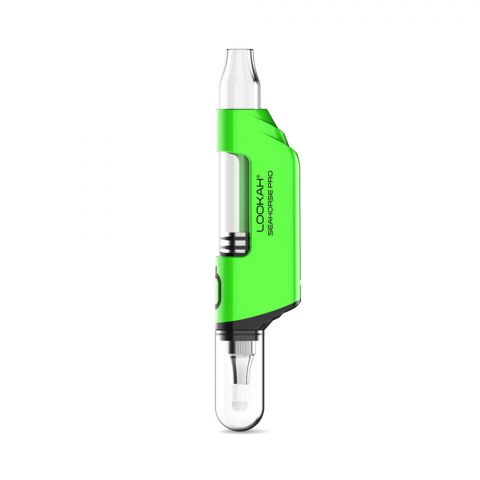 Product Info
COLOR MAY VARY ( GREEN, BLACK, RED)
Introducing the LOOKAH Seahorse PRO, a next-gen dab pen designed to look like a smaller version of the universally popular electric nectar collector kit. It's a limited-edition, state-of-the-art dab pen with an artistic flair to match your unique individuality. The next-gen Seahorse PRO electronic nectar collector is a multi-use dab pen that's flush with accessories to fit most glass bongs and dab rigs, and it's easy to clean while holding most 510 cartridges.
The Lookah Seahorse PRO Electric Nectar Collector & Dab Pen is the perfect device to use with Diamond CBD's Diamond Sauce, Sugar Rosin, and wide selection of Vape Cartridges.
With the new LOOKAH Seahorse PRO, you can finally level up your dab game.
Quick tip: Burn off all the concentrates after each dab to ensure the longevity of your quartz tip. Concentrates can harden and wear out your coil.
Enter the next generation of concentrates with the Seahorse PRO electronic nectar collector and experience the benefits of top-tier dabbing tech. The LOOKAH Seahorse PRO offers a 21st-century experience with:
●    A dab coil that's quartz, not ceramic. Everything will taste smoother and more potent, and the experience will leave you feeling ecstatic. Replacement coils available/Sold separately.
●    A 3.7-volt rechargeable battery(650mah). Power your electric honey straw device with the top-tier industry standard.
●    A 510 thread battery with variable voltage. Now you can vary your voltage, switching between 3.2V, 3.6V, and 4.1V. The rig itself operates at 1.2 Ω resistance, and you have two modes from which to choose manual and automatic session.
●    A glass mouth-pipe. See every bit of the wax vapor while you dab. Marvel at the high-end dab straw and removable glass pieces, all of which make it easy to clean while making everything taste fantastic.
How to use your LOOKAH Seahorse PRO Electric Nectar Collector & Dab Pen:
The next-gen Seahorse Pro is simple to use. Set the device to a desired heat and place a small amount of wax or concentrate on the tip. Use a dabbing tool and don't push too hard on the tip, or you may ruin the quartz coil. Once this is done, the heat will vaporize your concentrate, giving you a unique, next-generation experience.
The Seahorse Pro unique, food-grade Quartz tip touch style dip coil lets you dip concentrates directly from the container. Replacement quartz tips (SKU: SCI-QZ) or ceramic tips (SKU:SCII-CK) can be found online.
For manual mode on the Seahorse Pro, simply press the button and dab at any preferred temperature. Activate Exclusive mode by pressing the power button three (3) times quickly. A 15-second pre-heat mode will be followed by flashing lights, at which point the set temperature will hold for 30 seconds.
Your next-gen dabbing device allows for cooler hits with a glass water pipe accessory. Connect the mouthpiece of the supplied pipe kit and silicone tube to your water rig. Now you can dab vaporized concentrate through water filtration for a cooler experience. 
You can also unscrew the quartz tip and attach 510 cartridges to your Seahorse Pro, allowing you to vape from either end. 
Quick tip: Never use a cleaning brush or any liquids/solvents to clean the quartz or ceramic tip. They can damage the tip.
The LOOKAH Seahorse PRO Electric Nectar Collector & Dab Pen is available in the following colors:
●    Regal Purple
●    Luxurious Gold
●    Limited Edition Tie-Dye
●    Special Forces Camo
In addition, your device comes with the following accessories:
●    1 Seahorse PRO
●    1 Tip/Coil Cover
●    1 Connect Hose
●    1 User Manual
●    1 Cleaning Brush
●    1 14/18mm Adapter
●    1 USB Cable
The LOOKAH Seahorse PRO is the next-gen dabbing device. It has a 650mah battery, heats up fast, and is easy to clean. Moreover, it's portable and compatible with a bong and is a multi-use device. It's the perfect device for use with Diamond CBD's Diamond Sauce, Sugar Rosin, and wide selection of Vape Cartridges.
The LOOKAH Seahorse PRO is intended for users 21 years of age or older only.
"
Customers Reviews
Reviews
(3)
I can't believe how it so easy to use. On your advice I decided to buy it and very glad that I did. Thank you 😌
Customer service is top notch & very good products at good price
Very happy with this!! It's really a neat idea!! Works Great⭐️⭐️⭐️⭐️⭐️
Frequently Asked Questions
How do I change the temperature on my vape pen?
To change temperature press the button 3 times. Continue to do this until you reach your desired temperature.
How do I prevent my vape cartridge from clogging?
Vape cartridges clog when excess vapor cools and then condenses along the walls of the inner cartridge. It then solidifies into oil, causing a buildup in the airway or blockage.One way to prevent this is to continue pulling air through the cartridge for a few seconds with every puff. The extra draw of cool air will help to keep your cartridge clean and clear, preventing blockage from ever occurring. It is the best way to care for your vape products.Many people like to draw too hard on their vapes, which can also cause blockage. Pull a bit softer to prevent blockage or flooding of your cartridge.If your CBD or Delta-8 THC vape cartridge already has a blockage, then you will need to clean it. The best way to do this is to gently scrape out the excess residue with a toothpick, gently scraping it out of the cartridge.
What should I know before using my new 5To batteries and vape pen?
Li-ion and Polymer batteries and packs may explode and cause fire if misused or defective. We require all buyers/users of Li-ion batteries and packs to be professionals and have the capability to handle an emergency.You must follow our instructions exactly as listed on the manufacturer's product page to control charging and discharging current.
How do I turn on my 5To rechargeable battery?
To turn on your new vape pen press it 5 times until you see the pen light blinking.
Why does my cartridge taste burnt?
We store and ship our cartridges upside down to prevent leaking. In many cases, this will force air upwards to surround the cotton wick. You will need to flip and prime the cartridge before the first use, or else the cotton will burn before the oil, causing a burnt taste and smell. If you do have a burnt taste or smell, it should dissipate within the first 15 or so puffs.