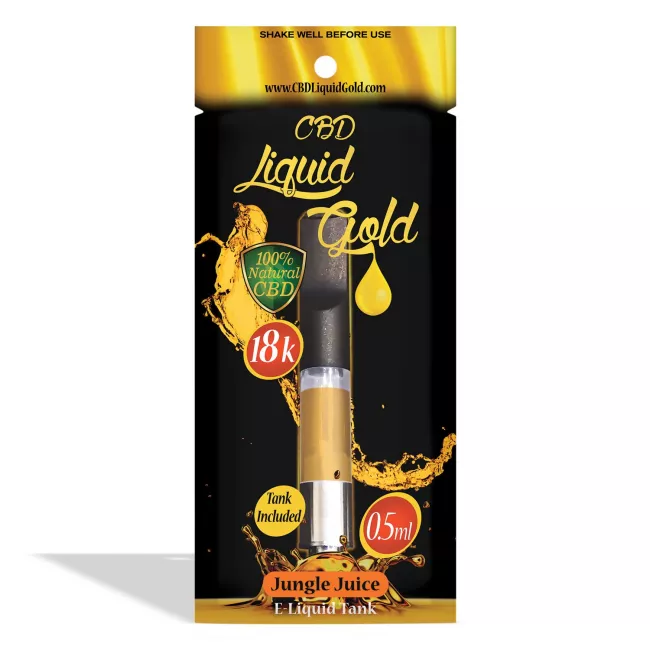 Liquid Gold [Vape Tank] - Jungle Juice
---
Description
Liquid Gold CBD Vape Tank Jungle Juice e-liquid is a ready-to-use CBD liquid vape tank made from organic CBD hemp oil.  Vaping e-liquid is an alternative to CBD oils, CBD tinctures and CBD smokables.
Liquid Gold CBD Vape Tank Jungle Juice flavor e-liquid makes it easy for you to enjoy your CBD wherever you go. Liquid Gold CBD Vape Tank Jungle Juice e-liquid is ready to use and fits all standard vape battery packs.
If you want the best CBD Vape Tanks in bold Jungle Juice flavor, go with the gold… Liquid Gold CBD!
Ingredients
Industrial Hemp Cannabidiol, USP grade Vegetable Glycerin, and Artificial Flavoring
Products of the Same Brand
Frequently Bought Together
---
Danielle L. on February 7, 2018
Tasted great. Kept having to work with the cartridge for it to keep the heating element touching the battery.
MISSY B. on February 7, 2018
i couldn't be happier with my purchases from diamond cbd! the flavor is excellent the customer service is top notch!
Dawn Z. on March 12, 2018
Love love love it. Convenient and nice flavor.
littlebrocc101 on March 13, 2018
Love. Love it. I would definitely be ordering from you again. I appreciate all the products that you guys have. They work very well they help me sleep and they help with my inflammation.
philip m. on March 14, 2018
The jungle juice vape tank is great tasting vape. Easy for on the go and no hassle. Good to the last puff. Relaxing formula.