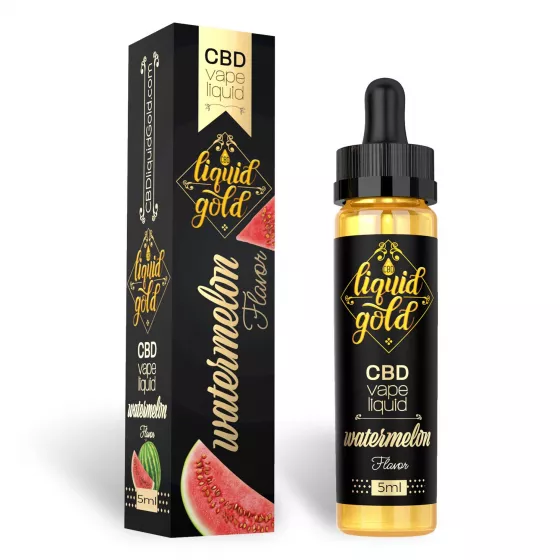 Liquid Gold Vape Liquid [5ml] - Watermelon
New and improved formula, now with more CBD! Liquid Gold CBD Vape Liquid Watermelon Flavor [5ml] is the CBD vape liquid with bold flavor made from organic CBD hemp oil. Vaping is a CBD alternative to … Read more
Key Facts
With 210mg of Active CBD
New and improved formula, now with more CBD! Liquid Gold CBD Vape Liquid Watermelon Flavor [5ml] is the CBD vape liquid with bold flavor made from organic CBD hemp oil. Vaping is a CBD alternative to CBD oils, CBD tinctures and CBD edibles.
Brighten up your day with Liquid Gold CBD Vape Liquid, which contains the maximum amount of CBD with sweet, fruity watermelon flavor. You can use it any time, just add the CBD vaping tincture to your vaporizer and you are good to go.
Liquid Gold CBD Vape Liquid Watermelon Flavor… when you want the best CBD liquid vape available, go with the gold!
Industrial Hemp Cannabidiol, USP grade Vegetable Glycerin, and Artificial Flavoring
Mg of CBD per bottle
Mg of CBD per drop
1ml bottle
5ml bottle
12ml bottle
16ml bottle
25 mg
1.25 mg
0.25 mg
0.10 mg
0.08 mg
50 mg
2.50 mg
0.50 mg
0.21 mg
0.16 mg
85 mg
4.25 mg
0.85 mg
0.35 mg
0.27 mg
120 mg
6.00 mg
1.20 mg
0.50 mg
0.38 mg
350 mg
17.50 mg
3.50 mg
1.46 mg
1.09 mg
450 mg
22.50 mg
4.50 mg
1.88 mg
1.41 mg
500 mg
25.00 mg
5.00 mg
2.08 mg
1.56 mg
550 mg
27.50 mg
5.50 mg
2.29 mg
1.72 mg
650 mg
32.50 mg
6.50 mg
2.71 mg
2.03 mg
850 mg
42.50 mg
8.50 mg
3.54 mg
2.66 mg
900 mg
45.00 mg
9.00 mg
3.75 mg
2.81 mg
1200 mg
60.00 mg
12.00 mg
5.00 mg
3.75 mg
Measured in mg per drop**
This table represents how many mg of CBD per drop are approximately included in the product.
Please check this table before purchasing.
Justus E. on September 4, 2020
Light smell. Still relaxing
Robert B. on April 4, 2018
10/10. Would recommend to anyone.
JACQUELINE K. on April 4, 2018
There is not one product I have been unsatisfied with through DiamondCBD. I am a huge fan of the "gold" line in every way. Love every flavor. If you like the normal Diamond CBD vape additive - I highly suggest trying this product. You will love it.
Michael B. on April 3, 2018
The product works! Just wish it wasn't so expensive.