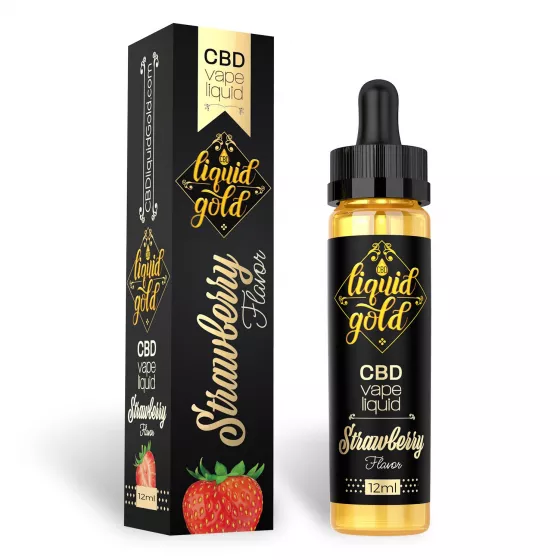 Liquid Gold Vape Liquid [12ml] - Strawberry
New and improved formula, now with more CBD! Liquid Gold CBD Vape Liquid Strawberry Flavor [12ml] is the CBD vape liquid with bold flavor made from organic CBD hemp oil. Vaping is a CBD alternative to … Read more
Key Facts
With 500mg of Active CBD
New and improved formula, now with more CBD! Liquid Gold CBD Vape Liquid Strawberry Flavor [12ml] is the CBD vape liquid with bold flavor made from organic CBD hemp oil. Vaping is a CBD alternative to CBD oils, CBD tinctures and CBD edibles.
Brighten up your day with Liquid Gold CBD Vape Liquid, which contains the maximum amount of CBD with sweet, bold strawberry flavor. You can use it any time, just add the CBD vaping tincture to your vaporizer and you are good to go.
Liquid Gold CBD Vape Liquid Strawberry Flavor… when you want the best CBD liquid vape available, go with the gold!
Industrial Hemp Cannabidiol, USP grade Vegetable Glycerin, and Artificial Flavoring
Mg of CBD per bottle
Mg of CBD per drop
1ml bottle
5ml bottle
12ml bottle
16ml bottle
25 mg
1.25 mg
0.25 mg
0.10 mg
0.08 mg
50 mg
2.50 mg
0.50 mg
0.21 mg
0.16 mg
85 mg
4.25 mg
0.85 mg
0.35 mg
0.27 mg
120 mg
6.00 mg
1.20 mg
0.50 mg
0.38 mg
350 mg
17.50 mg
3.50 mg
1.46 mg
1.09 mg
450 mg
22.50 mg
4.50 mg
1.88 mg
1.41 mg
500 mg
25.00 mg
5.00 mg
2.08 mg
1.56 mg
550 mg
27.50 mg
5.50 mg
2.29 mg
1.72 mg
650 mg
32.50 mg
6.50 mg
2.71 mg
2.03 mg
850 mg
42.50 mg
8.50 mg
3.54 mg
2.66 mg
900 mg
45.00 mg
9.00 mg
3.75 mg
2.81 mg
1200 mg
60.00 mg
12.00 mg
5.00 mg
3.75 mg
Measured in mg per drop**
This table represents how many mg of CBD per drop are approximately included in the product.
Please check this table before purchasing.
Dan C. on July 27, 2020
A little hard to load empty cartridge, but works fine besides.
Kevin J. on June 9, 2020
This is my husband's favorite Vape juice
Harvey S. on September 1, 2018
The packaging states that it is a "New and Stronger" mix. I prefer the old mix. The effects with the new formula is non-exisitant.
Amardeep N. on August 21, 2018
Product is out of the chart .. the thing that sucks the most is how long it takes to receive it ... it's over delay for no reason
Jacob K. on August 21, 2018
Been using this product for two years and it is the best cbd out there!