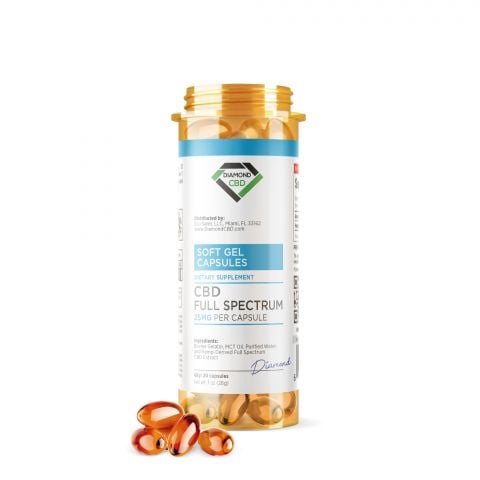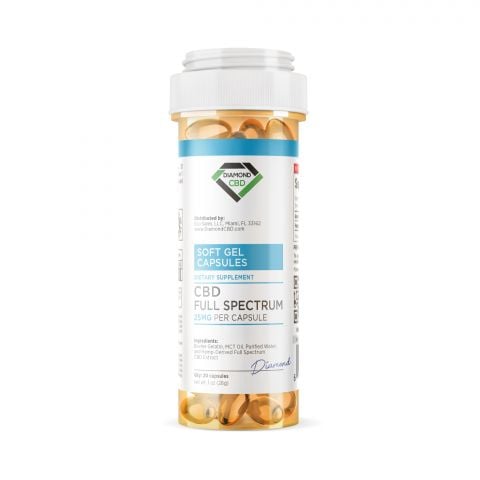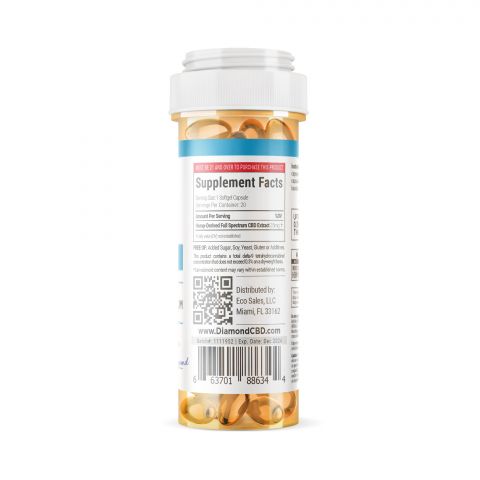 On sale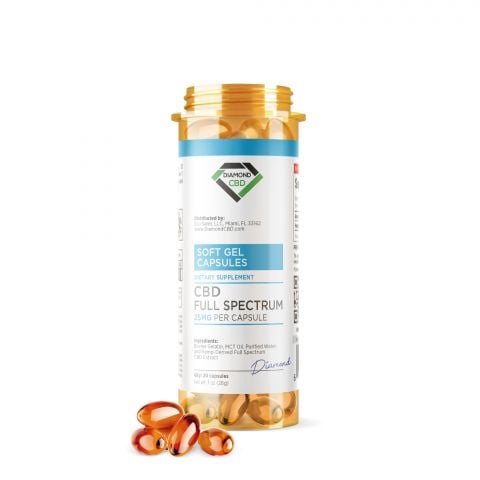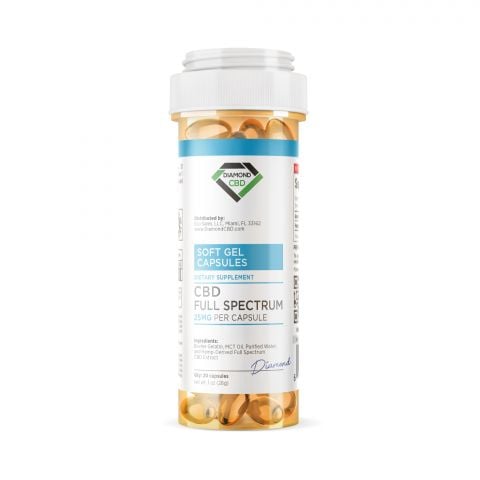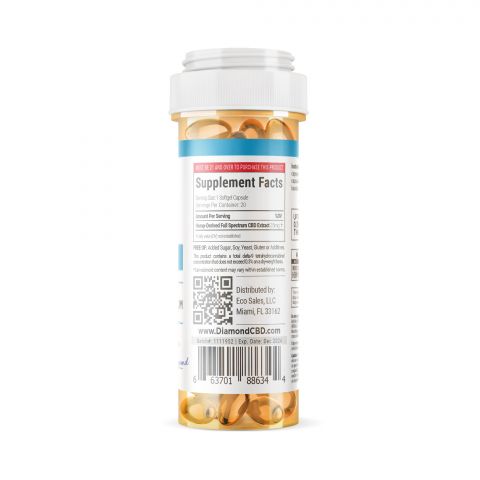 Full Spectrum CBD Capsules - Diamond CBD - 500mg
Product Info
Give yourself some cannabinoid relief with Diamond CBD Soft Gel Capsules. Just two gel caps give you 500mg of Full Spectrum CBD to relax and revitalize you, while also enhancing your overall wellness routine. Plus, it's an easy way to give your daily routine a boost -- just pop two gel caps and you're on your way!
Give our all-natural, hemp-derived soft gel caps a try and see what they can do for you. Infused with some of the best hemp-based cannabinoids we have to offer, it's just what you know who ordered. These all-natural, Farm-Bill compliant capsules are absolutely amazing. From the first pop to the last, you'll love these capsules!
Diamond CBD Soft Gel Capsules make you feel like you've been refreshed in a whole new way. You've never felt anything this amazing before. Add a dash of vitality and vigor to your lifestyle and get yourself off of the couch and start living again. With our soft gel caps, you'll kick your endocannabinoid system into high gear in no time!
All you need are two soft gel caps before breakfast, and you'll start moving (and grooving) before the work day begins. They're third-party tested for safety and efficacy and contain no contaminants nor fillers. It's just pure goodness through and through. So give them a try today and see how they can benefit you!
Diamond CBD Full Spectrum CBD Soft Gel Capsules can help add vim and vigor to your wellness routine! Try some today!
Strength Per capsule
25mg/capsule
Total Full Spectrum CBD
500.0mg
Full Spectrum CBD Per capsule
25mg/capsule
Bovine Gelatin, MCT Oil, Purified Water, and Hemp-Derived Full Spectrum CBD Extract
Active Ingredients
Full Spectrum CBD Products are all-natural, hemp-derived cannabinoids made popular because they include all hemp compounds. These products are available in many forms, including oils, creams, and gummies. Most people enjoy Full Spectrum CBD Products for their ability to maintain wellness and relieve your body.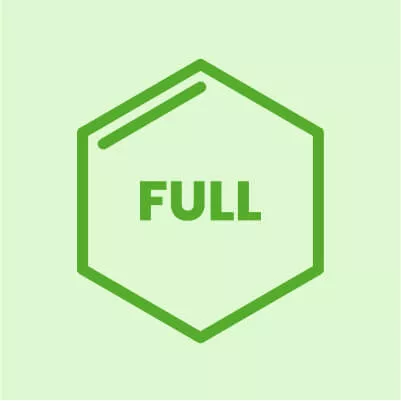 CBD Products are all-natural, hemp-derived cannabinoids made popular because of their wellness properties. These products are available in many forms, including creams, gummies, and capsules. Most people enjoy CBD Products for their ability to help maintain wellness.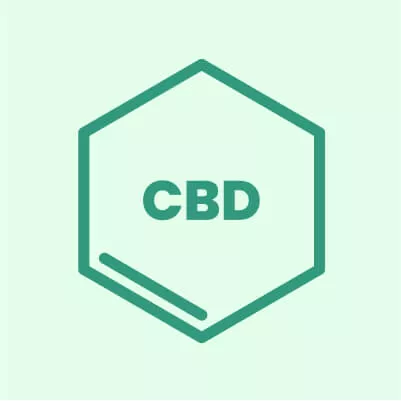 Frequently Asked Questions
What type of cannabinoids are available as capsules?
Currently you can purchase CBD, Active CBD, and Delta 8 in capsule form. But keep checking as we're always introducing new products!
Are Diamond CBD products safe?
Absolutely. We only sell the best hand-selected, non-GMO, organically-grown hemp products. At our store, we prioritize the safety and quality of our products. All of our cannabinoids and supplements have been thoroughly tested by independent third-party labs to ensure they meet the highest standards for purity and potency. Our third-party partner labs test everything to ensure the utmost quality, safety, and purity.
To see all of our lab reports you can click here.
What are soft gel capsules?
Soft capsules are small, soft-gel capsules, not unlike those you find at the pharmacy, filled with CBD. They are small, easy to take, and can be taken anywhere. It's a quick, simple way to take your daily dose of CBD.
What are soft gel capsules good for?
Soft gel capsules are a quick and easy way to use your cannabinoid of choice. Just pop a couple of capsules in the morning, or anytime you feel you need a boost, and before you know it your mood will be enhanced in any number of ways.
What other cannabinoids are found in full spectrum hemp?
Full-spectrum CBD includes a wide array of cannabinoids, including, but not limited to:THCA: A form of tetrahydrocannabinol when heated up or burned. CBDA: A form of CBD that is abundant in hemp plants. It converts into CBD when heated.CBN: When tetrahydrocannabinol degrades, it produces CBN. CBN works well in combination with CBD.CBG: Another potent cannabinoid with great potential.THCV: This is structurally similar to THC, though with different effects.