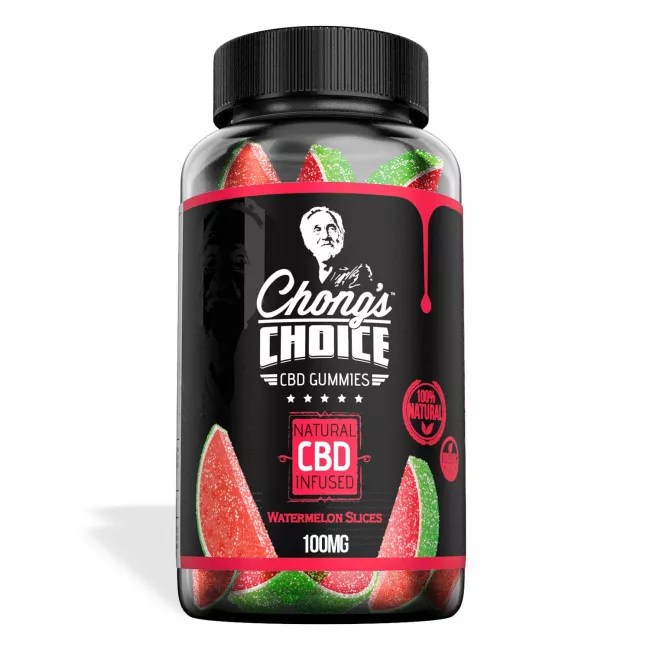 Chong's Choice Gummies - CBD Infused Watermelons [Edible Candy]
---
Description
Chong's Choice CBD products are a premium brand of CBD products brought to you by the legendary Tommy Chong and are produced using the highest quality ingredients and 100% natural premium hemp.
These delicious watermelon gummies from Chong's Choice will have your mouth bursting with flavor and CBD!  Infused with 100% natural and organic CBD rich hemp oil.  This is the perfect product for those looking to enjoy delicious CBD edibles.
Ingredients
Sugar, Corn Syrup, White Grape Juice from Concentrate, Gelatin, Citric Acid, Sorbitol, Natural and Artificial Flavors, Carnauba Wax, FD&C Yellow #5, FD&C Yellow #6, FD&C Red #40, FD&C Blue #1, Alcohol, Industrial Hemp Cannabidiol (CBD), Proprietary Blend Extract including Melatonin.
Products of the Same Brand
Frequently Bought Together
---
Jamaris R. on December 20, 2017
These are by far the best cbd products I have tried from Diamond CBD!!
Erin Clancy on January 27, 2018
I stumbled across the benefits of CBD while researching what could help my mood as I'm hitting menopause, I've also had adhd my entire life. There wasn't much research in cbd and menapause, but I gave it a try. I am extremely thankful I did.
I use the oil and relax gummies during the day, the Chong and chill at night. Over the past couple months my mood swings have gone away. PMS is much better, focus is better as well.

Work colleagues have notice my focus and mood as well.

I'm so in love with this company and products, I bought their stock!!!

Thank you!! To anyone hesitating to try it. Just go for it. I now use the oils, gummies and pain cream, any product I've ordered... I bought again
Valarie on February 10, 2018
I am so pleased with this company's service and great discounts! I bought these for the evening, wanted something stronger then the 2 30mg I take during the day. Great amount for the price and great taste! I will buy again.
Makenna on February 11, 2018
Yummy and gives you the best night sleep!!!!! Will buy again
Richard M. on March 12, 2018
sekilgo on March 13, 2018
Love these gummies. Best I have ever had
David C. on April 3, 2018
Quality product! Nice packaging. These gummies are excellent as a sleep aid an d they help relieve minor pain! Thank you, Mr. Chong!
mbkyzar on April 3, 2018
One of the best tasting edibles I've tried to far.
Babylon S. on April 4, 2018
sekilgo on April 5, 2018
Best ones I have ever had!!! Love them
Brad C. on April 5, 2018
I've purchased many different edibles from Diamond CBD and these are by far my favorite. Highly recommended.
Carol R. on April 6, 2018
Very flavorful, I would recommend highly
David M. on April 6, 2018
Got a good nights sleep on the product. Think I might check that oil out again for a good discount.
sekilgo on April 6, 2018
Get Chong's choice watermelon. Love um
Bobby C. on April 7, 2018
These are by far the best gummies we've ever tried. Both taste and effectiveness are second to none. Chong is the only way to go for us!