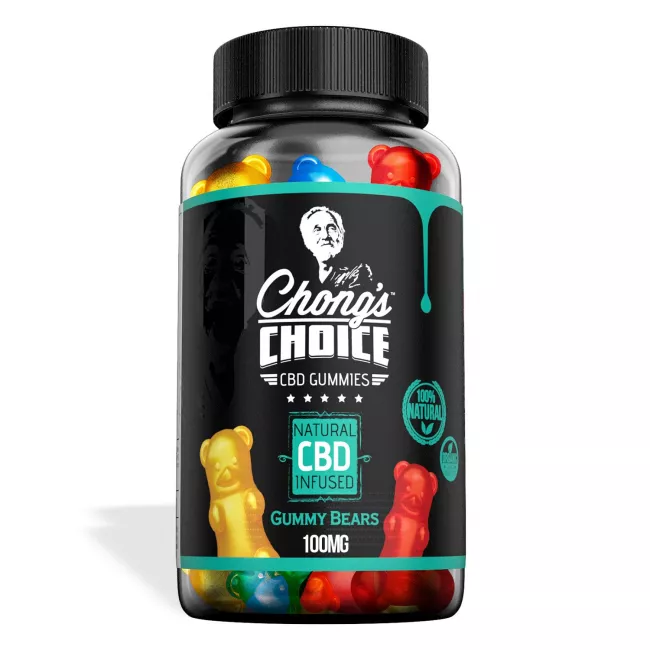 Chong's Choice Gummies - CBD Infused Gummy Bears [Edible Candy]
---
---
Macias_herlinda. on September 9, 2018
They are by far the best gummies out there, great taste and texture I don't buy any other kind.
Wayne E. on September 3, 2018
Not quite as good as the old chill gummies in the black bags, but you do get about three times the amount.
Jerrold C. on August 29, 2018
Bought Chong's choice gummies for my son who has problems with anxiety, depression and insomnia, after taking them for a couple of weeks I'm definitely seeing some improvement. His moods been better and he's sleeping better.
Laurie K. on August 28, 2018
I love this product. It is a great natural pain reliever
Anonymous. on August 26, 2018
Hard to decide which ones to buy does not tell how many MG of CBD in each gummie
Johnny B. on August 25, 2018
They taste so good and they help relieve my arthritis pain thank you for products that taste good and the cbd infusion helps so much
Jan J. on August 24, 2018
Love these!! When stressed thru out the day I just grab me a gummy!!
Lakisha E. on August 23, 2018
These gummies are wonderful for helping with insomnia. I can not say they completely cure me. They do let me have a more restful sleep. I will continue to use them because the effects are worth every penny.
Jacob J. on August 21, 2018
Love this cbd product. Gummies are easy to ingest and absorb well. Would recommend. 5/5
Tripp S. on August 21, 2018
Wesley G. on August 21, 2018
Totally hit the spot! Really enjoy them...
Chris L. on August 21, 2018
Great products. Haven't had a bad experience with products or such.
Brad C. on April 5, 2018
I personally like the watermelon Chong gummies over these but these have the same effect and work wonderfully.
Sarantos K. on April 5, 2018
LOVE this item. Works great for my wife's fibromyalgia pain
Cory E. on April 3, 2018
Love it the only problem i have is your company registered as a farin country so i have to call my bank to be able to use ur website
Charlotte P. on April 3, 2018
I truly enjoyed my sleep from these
Kami H. on April 3, 2018
This definitely would become a daily use product if it we're lower in carbs and sugar. Any alternative formulation on the horizon
Charlotte P. on March 14, 2018
I enjoyed the relaxed feeling
Karen G. on March 14, 2018
These gummy bears are amazing! Definitely will be buying them again. I take 2 right before bed to help relax me and help me get a good nights sleep. I ahve recommended them to others who now take them as well.
Jeremy M. on March 13, 2018
I have bought them more than once and enjoy them every time.
Nitza T. on March 12, 2018
Charlotte P. on February 7, 2018
The good feeling doesn't last as long when using only 1
Kelly L. on February 7, 2018
These gummies are a helpful way to get through all the aches and pains! I've shared with friends, and they all agree, Chong's Choice Gummies are top notch!
Lisa Harris. on January 30, 2018
I thought I'd give these gummies a try because they were Tommy Chong's brand. I was so surprised that they worked so well for my chronic pain and insomnia! I only had to take 2 a night and u was good for almost 24 hours. I've tried many cbd products and this one us the best so far! You get a lot for the money so they are a good value also!
Peggy S. on January 29, 2018
It worked somewhat. I have restless leg syndrome and the cbd gummies help.
Jeremy M. on December 26, 2017
Work well for reducing stress and help you to relax after a stressful day.
Denise M. on December 22, 2017
Renee H. on December 20, 2017
Ok these really helped me in all levels of my chronic pains and illness I was so impressed I ordered 3 more bottles and will continue to order this brand
Charlotte P. on December 19, 2017
These are the best so far