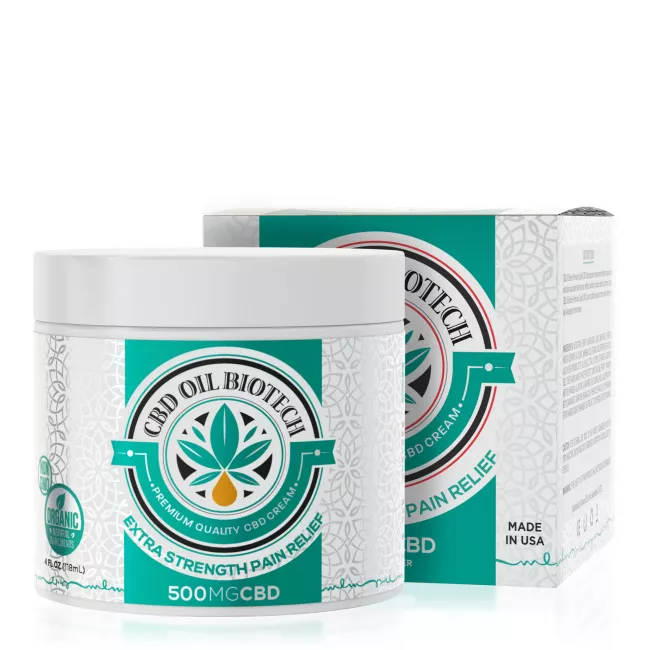 Biotech CBD Cream - 500mg
---
Products of the Same Brand
Frequently Bought Together
---
Paul B. on April 15, 2019
Love the stuff helping spread the word
My neighbor had me order her some
And a few friends have tried it and have and will be ordering
Nancy B. on April 14, 2019
so helpful with the pain and i love it
Colbert H. on April 9, 2019
It has worked great on joints and musels
Lori J. on April 8, 2019
I like this cream for minor arthritis aches. My dad swears by it.
Karl M. on April 8, 2019
Great quality. Seems to help minimize my finger joint pains from playing guitar too long and lifting golf cart batteries.
Manuel E. on April 8, 2019
Love it, tried the 250 mgs and the 500 is even better, pain relief from arthritis is immediate. Great product, have told many of my friends with similar ailments and they agree once they try it.
Deborah B. on April 8, 2019
Because of autoimmune issues I'm limited as to what I can take but 𝐂𝐁𝐃 has been fantastic. I have used three other brands of creams or lotions but have found this to work the best! It's smell is pleasant and was very effective on my ankle, knee and shoulder. It would also be good as a roll on for ease of use and travel ability
John C. on April 4, 2019
Hi , I just wanted to say that the cream does help (it's not the cure all) but it does help alleviate some of the pain and discomfort from my sciatic pain I experience. Maybe the next step up would give me even more relief. Thanks Diamond CBD!
Cheri M. on April 2, 2019
Works great! Very happy we found this .
Denni@rentps.com. on April 1, 2019
I rub it on both knees and both shouders and believe it helps the pain.
The smell is pleasant and not offensive. The amount of cream for the amount paid is very generous.
Anita J. on April 1, 2019
So far, so good! Helpful with complex shoulder pain and what turned out to be a stress fracture of foot.
Kenneth W. on March 27, 2019
It is wonderful for my pain. Actually no more pain.
Marcia L. on March 23, 2019
great cream like it a lot
Patricia S. on March 22, 2019
I bought this to help the chronic back pain I have suffered with for over 4 years. The cream has lessened the pain significantly to my delight. I only wish it worked as well with my arthritic hands but I was looking for releif for my back and the cream did that. I will try the 1000mg cream next.
Jerome Y. on March 22, 2019
John C. on March 21, 2019
I have been using the product for about 2 weeks and I am getting some relief from back and hip pain. I will hope that the CBD cream continues to help make life a little more comfortable. If the more powerful creme has a sale I might upgrade to the 1000 mg.
Thanks Diamond CBD
Aletha M. on March 20, 2019
Patricia B. on March 18, 2019
GREAT PRODUCT! IT RELIEVES MY PAIN. I USE IT ONCE IN THE MORNING AND IT HELPS KEEP THE PAIN AWAY ALL DAY! I'M GLAD I GOT THE 500 MG.
Willie M. on March 17, 2019
Great. Product arrived as promised. Pain relief was more than satisfactory. Will purchase again.
Susan A. on March 16, 2019
Seriously fantastic experience with this cream My mom at 85 is in chronic pain from a bad fall she took last year and this helped bring back range of motion in her arm and shoulder! I use it as well for a very sore shoulder with radiating muscle pain and it works like a charm! So glad I decided to try this !
Mary S. on March 13, 2019
I have severe arthritis and went looking for a miracle. Found it! This stuff helps with muscle spasms caused by the arthritis and has cut pain by at least 70%. I can sleep again and the focus of my day is no longer pain.Thank you for this stuff!
Ashley M. on March 11, 2019
This is by far my favorite cbd product. Helps with my chronic pain from fibromyalgia and RA. Highly recommended to everyone!
Leslie B. on March 3, 2019
It works very well on my arthritis in my ankle. I probably couldn't walk if I didn't have the CBD products and I am very grateful that they work
Joann V. on March 3, 2019
It is very moisturizing and it seems to reduce the pain in my hands. This company is wonderful to with..great customer service. Will purchase more items.
Jessica L. on March 3, 2019
Bought it for my husbands neck and back pain and he has said it is helping subside the aches and pains.
Debra W. on March 1, 2019
Peter L. on February 28, 2019
i have been dealing with a bad hip for months ,didn't want to take pain meds so decided to try cbd oil, was amazed at how well it works ,doesn't take all the pain away but makes it manageable until my surgery, would definitely recommend also fantastic price and speedy delivery,
Gary Y. on February 27, 2019
It really helps,I am very pleased with this product.
Gary
Kim O. on February 26, 2019
As soon as I run some on my back and shoulder the pain doesn't seem as bad!
Kimie M. on February 25, 2019
Works great on my back pain

Patricia B. on February 25, 2019
Great relief from arthritis pain!
Joann V. on February 24, 2019
This cream smell great and leaves my skin smooth. It works really well at reducing pain. Like that there are four ounces of this very good product. Will purchase again!
Marian W. on February 23, 2019
This is the best topical product I have used so far, and I have tried products from 5 different vendors including DiamondCBD. I use it twice daily and make sure that as soon as I open a container, I buy another one! Can't go without it!
Donna R. on February 23, 2019
Love it. Need to buy more.
Brian E. on February 20, 2019
Great product, gives me a lot of relief.
Adaash85@yahoo.com. on February 20, 2019
CBD 500 mg. Cream is a MIRACLE CREAM for me. I rub a very thin amount on my right hip and right shoulder every morning after showering as I injured these areas by falling in the shower over a year ago. I started with the CBD 250 mg. and advanced to the 500 mg. By using CBD products since November, 2018, I have not taken an analgesic by mouth, no Arthritis Tylenol, NOTHING! My Nurse Practitioner is very happy for my progress and wanted to know about Diamond CBD. I spread the word about Diamond CBD and thank the person who first told me about Diamond CBD. I thank the employees that I have contacted at Diamond CBD via email and/or phone. WHAT A WONDERFUL COMPANY WITH WONDERFUL PRODUCTS. I AM SOLD!
Kim R. on February 19, 2019
I first found this product at a little shop in New Orleans. I purchased the 500 mg and it is amazing. The relief from pain is virtually instantaneous. The minty scent isn't overpowering and the cream absorbs quickly and is non-greasy. I highly recommend this product and have already purchased more!
Cm S. on February 19, 2019
Works great on my arthritic wrists and thumbs. Also use it on my lower back pain. Husband used it as well on his sprained wrist, was pretty amazed at how well it worked. We are both 73 .. you are never too old to try new things.. LOL

Ann C. on February 19, 2019
Although not as effective as I'd hoped, I love this stuff! It doesn't take much for it to spread & it smells great! It does help, don't get me wrong. Just had hoped for a little more. But overall, it is a.good product.
Gary J. on February 14, 2019
I'm a first CBD pain cream I've been in an automobile accident and suffered from lower back pain in my neck shoulders and lower back this cream takes away the pain and helps me get through the workday highly recommend it to anybody who hasn't used this
Gary J. on February 14, 2019
I'm a first-time user of this product. I was astonished how well it works in regards to arthritis and pain in lower back I put the cream on was in 10 minutes the pain has stopped
Robert S. on February 14, 2019
Suzanne T. on February 14, 2019
Happy with purchase Reduces arthristis pain in hands and knees.
Dennis R. on January 22, 2019
Lowers pain levels of arthritis fairly well!
Lori J. on January 21, 2019
Works great, pleasant smell and affordable on a bogo sale. I would recommend this cream to anyone looking for topical relief.
Cassandra M. on January 18, 2019
Got this for my grandmother who can't handle anything stronger than Tylenol for her hip/back pain. She loves it, says it works fast and better than anything she's ever tried.
Lauren D. on January 18, 2019
I've really been enjoying this product
Greg S. on January 16, 2019
Both my wife and I use this product with great results for treatment of
joint pain!!
Marian W. on January 15, 2019
This the 3rd container I have purchased. I think that speaks for itself! I have two severely arthritic knees and this product has helped me to get off if ibuprofen altogether! It works!!!
Graham T. on January 14, 2019
Excellent product. Great for aches and pains. Helps with arthritis also. Will never stop using it